Android App of the Week Developed mobile ecosystems are all well and good but a marketplace with over a third of a million apps raises one significant problem – how to discover new and worthwhile stuff.
AppAware – which underwent a complete redesign late last year – aims to make finding essential and interesting apps more of a pleasure by providing lists of what's new and popular as well as recommendations from your social network.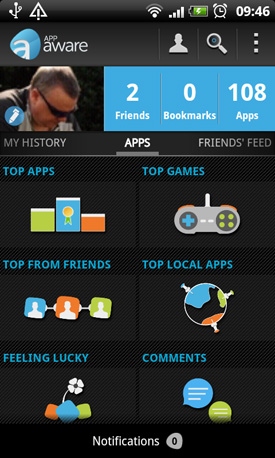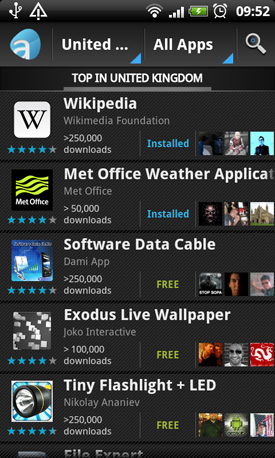 Main menu and UK apps chart
The main menu presents you with eight pretty self-explanatory sections to look at the current top apps and games in the Market, the top local apps by country, must-have apps that other users have given a thumbs-up to, a lucky-dip and categorised recommendations by the AppAware team. There's also a Just In section for new stuff.
The eighth category is for comments by other users, but since there doesn't seem to be an option to restrict this feed to languages I can understand, I don't find it much use.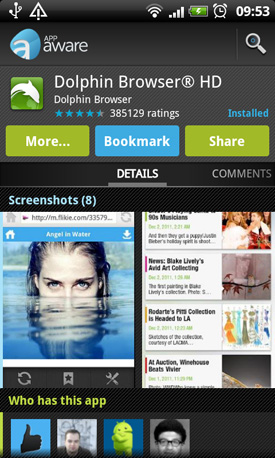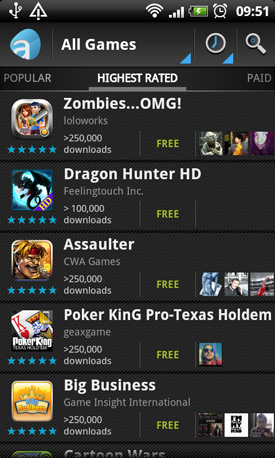 App info and popular paid for games
Not being the world's greatest social networker, I've yet to start getting recommendations from anyone whose opinion I value more that a hole in the ground, but even as it stands I find AppAware handy for a quick look at what's afoot in the Market.
Each of the main categories has numerous subdivisions so you can look at apps that are either free or paid, popular over the last 24 hours, 7 days or month or are trending. Tap on an app and can see some basic information and either share, bookmark or download it.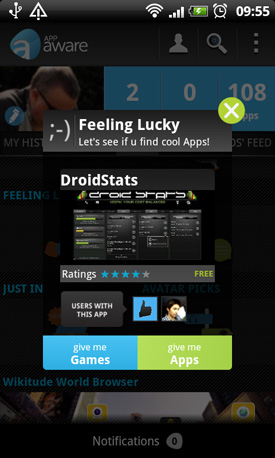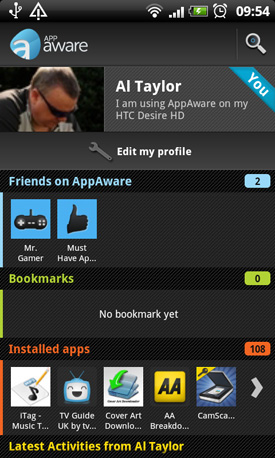 Lucky dip and view your friends, bookmarks and apps
The country-specific list of popular apps is well worth a look for the simple reason that the list in the Market is heavily skewed towards the interests of US and English-speaking Android users. Apps downloaded by people in your general vicinity are shown in the Around Me column.
Another handy column lists apps that have recently been updated so you can give applications that you that liked the basic idea of but found to be clunky or buggy and so uninstalled a second chance.
The social network side of things comes in the form of the option to sign the app into your Twitter, Facebook and Google+ accounts and so recommend and post apps to your network and receive recommendations the other way. ®
Size 3.3MB
Apps2SD Yes

We make our choice of the best Android smartphone and tablet downloads every Tuesday. If you think there's an app we should be considering, please let us know.
More Android App of the Week Winners

AirDroid
FilmOn
WikiHow
Go Contacts EX
Cocktail Flow

AppAware
A handy socially-enabled guide to what's hot in the Android Market