Apple slaps mega-solar panel field on new ENORMO data centre
Won't do much to satisfy Greenpeace though ...
---
Apple has dropped a few more details about its huge new data centre in Maiden, North Carolina in an update to its environmental policy published yesterday.
A big feature of the new billion-dollar data centre – needed to keep Siri chatting back, and to let new OS Mountain Lion sync games in real time between iPhones and Macs – is a 100-acre solar panel field, which, along with a biofuel burner, Apple says will provide a "high percentage" of the data centre's energy needs.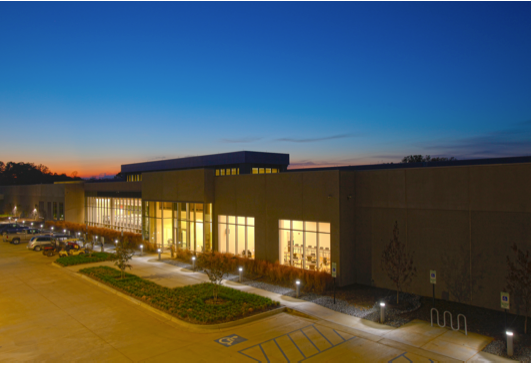 A rendering of Apple's new North Carolina Data Center. Credit: Apple
But the energy from the solar field and from a bio-gas powered fuel cell could be as little as 9 per cent of the total that the data centre slurps - that is if Greenpeace's estimate of the energy needed is accurate. The whale-huggers predict that the massive data centre will require 100 megawatts to run at full capacity.
More conservative estimates would put the Maiden centre's power draw a little lower. A $210m Facebook data centre in Prineville, Oregon draws a reputed 28 megawatts off the local grid. But though Apple's Maiden data centre is 500,000ft2 and has a $1bn price tag, quadrupling the cost won't necessarily quadruple the power draw.
The Maiden centre is one of the biggest data centres ever built but is more likely to be in the range of existing big data centres than completely in a league of its own: the US government runs several of the world's biggest data centres and these typically draw about 60 megawatts of power. We'd estimate that the power consumption of Maiden will be around the 50 to 60 megawatt mark.
We've obviously asked Apple (several times) to tell us how much energy the centre will use in a year, but in the absence of their response, estimates are all we have to go on.
Apple states that the solar panel field will produce 42 million kWh of energy annually and that the biogas fuel cell plant will produce 40 million kWh annually. Together they will produce 82 million kWh a year or simply 9,360 kWh on average an hour - a rate of 9,360 kilowatts or 9.36 megawatts between the two of them, averaged out over the year.
If the whale-huggers are right and the data centre will draw up power at a rate of 100 megawatts, that means that renewables will provide only 9.36 per cent of the power needed and that over 90 per cent of the centre's power needs will have to be drawn from North Carolina's power grid.
If our more conservative guess is right and the centre is sucking up energy at a rate of 60 megawatts, that would mean that Apple's renewables installations would supply 15 per cent of the centre's power, with the rest coming from the grid. North Carolina is a popular location for data centres because grid electricity there is cheap: both Google and Facebook have sited big centres there.
Whether 9-15 per cent qualifies as a "high percentage" of renewable power is a matter of perspective.
Paint and compost
The update of Apple's environmental policy also includes some other tidbits about Apple's right-on energy policy: for example applying reflective paint to the roofs and windows of their buildings, making disposable tableware in the cafeteria compostable and a shared bike programme for Cupertino employees. Oh yes, and they say their employees save energy - and presumably money - by using Apple computers.
Apple also says that its facilities - its offices, retail stores and data centres - only account for 2 per cent of its greenhouse gas emissions; the bulk - 60 per cent - comes from manufacturing its devices.
Apple's appetite for data
Apple's need for data centres will bump up as it makes a significant shift into the cloud and produces more data intensive products such as Apple TV, Siri and cross-device gaming. The Maiden North Carolina data centre will be Apple's fifth main data centre - supplementing its facilities in Cork, Munich, California and already existing in North Carolina. ®
Similar topics
Broader topics