A NASA-funded team has shot a sensor package, dubbed the Magnetosphere-Ionosphere Coupling in the Alfvén resonator (MICA), into the heart of a form of aurora borealis to seek clues that could minimize electronic interference from solar storms.
The team camped out in Fairbanks, Alaska for the shot, using a 40-foot twin stage Terrier-Black Brant rocket to loft electric and magnetic field sensors into the natural wonder specifically to measure the effects on electrical conductivity of Alfvén waves, which form some of the long ribbons seen on Northern Lights displays. After intense solar storms, the rocket hit its target around 200 miles up, broadcasting real-time data as it went.
"We were using NASA equipment to get the telemetry back from the rocket," physicist Marc Lessard, from the University of New Hampshire's Space Science Center, told The Register during a brief stop on his way back from Alaska. "In all we were getting between 8-10Mbps on the stream. The data so far looks very good."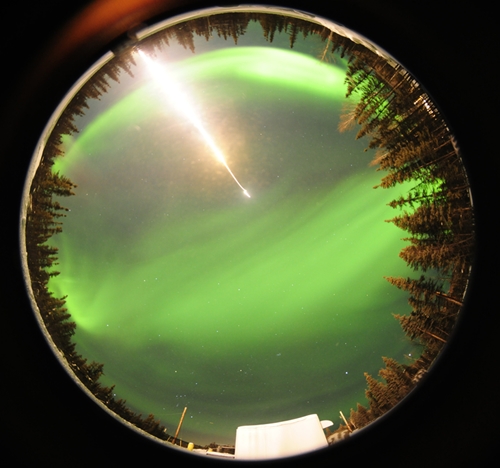 A launch view from below
The rocket itself landed about 200 miles off the launch pad at the Poker Flat Research Range, but the data retrieved could help advance the understanding of how the energy from the sun affects the atmosphere, causing interference in everything from GPS to simple radio communications.
2012 promises to be a golden year for researchers in this field – but a disappointment for global doom-mongers. With the solar maximum due, scientists are looking to get a better understanding of the kind of forces that can interfere with global communications in order to mitigate the worst effects of solar energy.