NASA's Lunar Reconnaissance Orbiter (LRO) has snapped shots showing that the Moon's crust has been stretched and pulled fairly recently to form tiny valleys on its surfaces.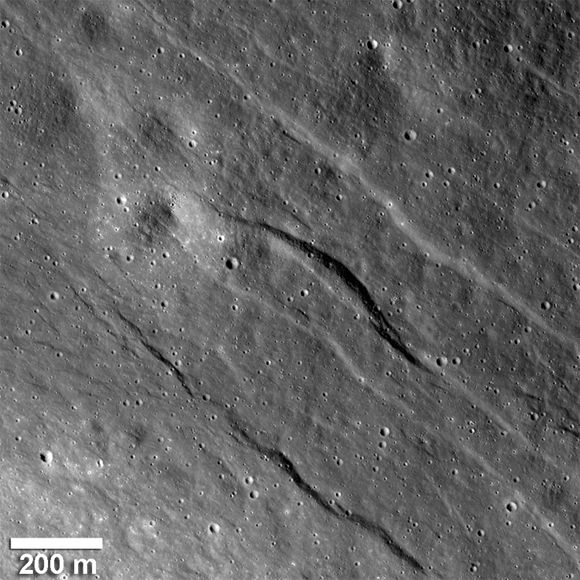 Recent valleys on the Moon's surface. Credit: NASA/Goddard/Arizona State University/Smithsonian Institution
The moonquakes occurred some time in the last 50 million years, which in Moon time is pretty recent since the rock is over 4.5 billion years old.
The valleys, known as graben, are narrow cracks on the surface that show the lunar crust is being pulled apart along two bounding faults.
"We think the Moon is in a general state of global contraction because of cooling of a still hot interior," said Thomas Watters, lead author of a paper on this research appearing in the journal Nature Geoscience.
"The graben tell us forces acting to shrink the moon were overcome in places by forces acting to pull it apart. This means the contractional forces shrinking the moon cannot be large, or the small graben might never form."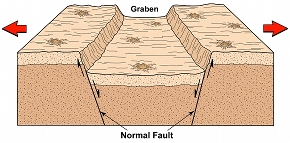 The findings raise questions about how the Moon evolved and whether or not it is still in the process of completely forming.
Scientists had assumed that the Moon was all done with tectonic activity, because the youngest geological markers on the surface were thought to be about a billion years old.
The graben show that the interior of the Moon could still be smoking hot and molten. If the core was cooling, the surface of the Moon would be wrinkling up, not cracking to form valleys.
"It was a big surprise when I spotted graben in the far side highlands," said co-author Mark Robinson, principal investigator of LROC.
"It's exciting when you discover something totally unexpected and only about half the lunar surface has been imaged in high resolution. There is much more of the Moon to be explored." ®