Instead of building a robot, why not print it? That's more-or-less the approach demonstrated by Harvard engineers with an ingenious and attention-grabbing miniature robot bee.
The process, which allows fixed and flexible joints to be created by layering materials in fabrication rather than assembling them, and allowing them to unfold like, as Harvard puts it, a pop-up book or an origami piece?
In their prototype of the Harvard Monolithic Bee (Mobee) – shown in the video below – the engineers put together 18 layers of carbon fibre, the plastic film Kapton, titanium, brass, ceramic, and adhesive sheets – incorporating the flexible hinges that allow the 2.4 mm tall product to "pop up" after assembly.
Harvard's Pratheev Sreetharan said: "This takes what is a craft, an artisanal process, and transforms it for automated mass production". Instead of working with tiny quantities of materials under a microscope to assemble the bee-sized robots that are the focus of his work (with Peter Whitney) at the Harvard Microbotics Laboratory, the two doctoral candidates want to create a repeatable machine process for the robots.
As Sreetharan said, the result is that one robot can be built, Autofac-style, by another.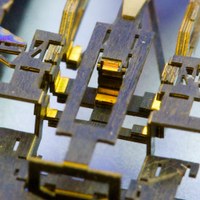 A detail of the flat-fabricated robot bee, showing
the device's transmission. Source: Pratheev Sreetharan
The process puts a premium on the ability to design the interplay between the flexible and rigid components of the finished product, before handing it over to machines to cut the materials, assemble the layers, and finally dip-solder the assembly before unfolding it.
Sreetharan says he has verified the alignment of components in his RoboBees to within 5 microns, and hasn't et seen a failure – compared to a yield of only 15 percent in hand-assembled designs.
The larger aim of the Harvard project, supported by the NSF, the Wyss Institute and the US Army Research Laboratory, is to create bio-inspired robots that can "fly and behave autonomously as a colony". ®
Similar topics