Spitzer spots first solid buckyballs in stellar disc
Stacks the size of 10,000 Everests found
The first solid "buckyball" Carbon-60 molecules have been spotted forming a ring around a star 6,500 light-years away, according to data from NASA's Spitzer Space Telescope.
A new paper reports a pair of stars called "XX Ophiuchi," with what looks like a disc of the molecules - dubbed Buckminsterfullerene after the architect who used a similar geodesic style - in orbit around one of the stars. In total they have a mass equivalent to 10,000 Everests, but in practice form a thin ring in orbit around a B-class subdwarf star in the system.
"These buckyballs are stacked together to form a solid, like oranges in a crate," said Nye Evans of Keele University in England, lead author of the paper published in Monthly Notices of the Royal Astronomical Society, in a statement. "The particles we detected are miniscule, far smaller than the width of a hair, but each one would contain stacks of millions of buckyballs."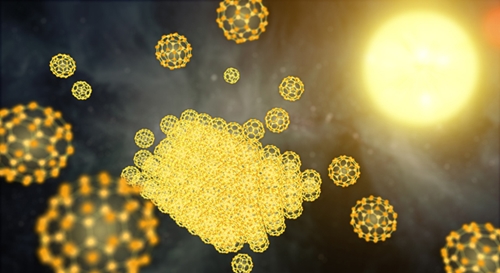 Buckyball ring stacks up in stellar orbit
Spritzer caught the first glimpse of gaseous Carbon-60 in 2010, but this first sighting of the formations as solids, suggesting that they may be more common than first thought. While Buckminsterfullerene occurs naturally in some forms of soot and minerals, it's only in the last 20 years that humans have been able to synthesize it in appreciable quantities of the pure form.
"This exciting result suggests that buckyballs are even more widespread in space than the earlier Spitzer results showed," said Mike Werner, project scientist for Spitzer at NASA's Jet Propulsion Laboratory. "They may be an important form of carbon, an essential building block for life, throughout the cosmos." ®