This article is more than 1 year old
Apple files patent for 'polished meteorite' keyboard
Thin, light, 'aesthetically pleasing'
Apple has filed a patent application for a key-travel design that it claims will allow for a "thin profile, aesthetically pleasing keyboard."
Keyboard aesthetics, the filing claims, is of great importance because "outward appearance contributes to the overall impression that the user has of the computing device." Quite Cupertinian, eh?
One aspect of the filing's contribution to aesthetic pleasingness is that it allows not only for keyboards that are quite thin, but also allows for the keys themselves to more easily be made of a multitude of materials, the filing states, "including, but not limited to, wood, stone, polished meteorite, ceramic, metal, and glass."
And, yes, you did read that correctly: polished meteorite. As the filing notes, slices of other planets have found their way onto watch dials, so why not have wee chunks of Mars on your laptop?
The core design element described in the filing is revealed in its title: "Single Support Lever Keyboard Mechanism". Instead of more-traditional key actuators such as scissor-switches, springs, or metal or polyester domes, keys are positioned on the ends of a relatively long lever that pivots when the key is pressed.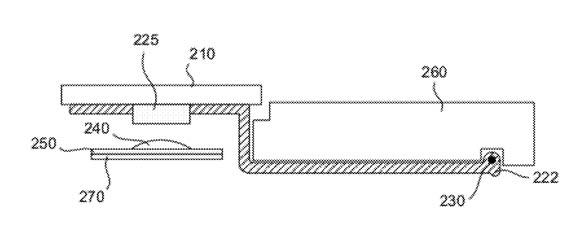 Since keyboard rows are offset, the levers won't get in each others' way
At the bottom of the key's short travel, an "elastomeric spacer" underneath the key but also on the lever would com in contact with a metal dome. The dome would compress, completing the circuit and triggering the keystroke.
The composition of the elastomeric spacer could be varied to produce either a soft or hard feel to the key contact. Also, the filing notes, a spacer made of, say, silcone rubber coud reduce rattling, quieting the keyboard but still providing a satisfying bit of tactile feedback in conjunction with the deformation and snap-back of the metal dome.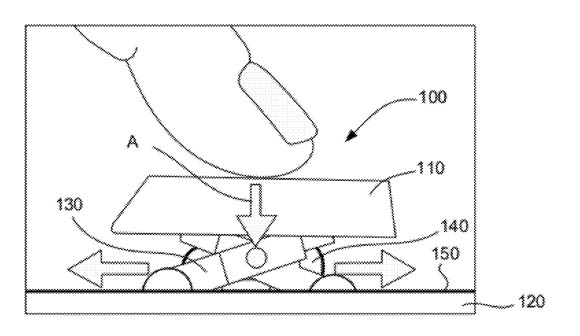 Scissor-switch keys provide fine feedback, but are so 20th-century chubby
The filing describes a few different versions of the key construction – "embodiments", in patentese – some with key travel as short as 0.2mm, some with keys travel as long as 1.85mm.
Of course, since the keys would pivot due to the lever method, some key-tilting would occur. "Such a forward rotation during key travel can be ergonomically desirable," says the filing. With low-travel keystrokes, however, "such rotation can be almost imperceptible."
As the filing notes, "The advantages of the invention are numerous," citing low-travel keys suitable for ultra-thin notebooks – or, for that matter, Ultrabooks™ – but which still provide good tactile feedback.
And then there's the cachet of browsing NASA's website while stroking slivers of space. ®