Xeroxiraptor: Boffins to print 3D robot dinosaur
Star Trek replicator-style fossil tech
Dino-loving boffins in the US have embarked on their very own Jurassic Park-esque experiment to bring the actions of Earth's favourite prehistoric lizards to life.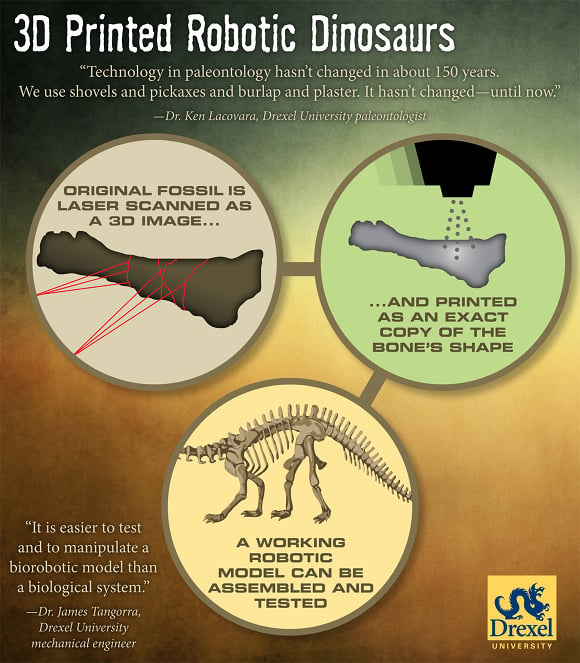 The researchers, from Philadelphia's Drexel University, are using 3D printing to create dino-bones and then attaching artificial muscles and tendons to create dinosaur robots.
"Technology in paleontology hasn't changed in about 150 years," paleontologist Kenneth Lacovara said. "We use shovels and pickaxes and burlap and plaster. It hasn't changed - until right now."
The 3D printers build the dino-bones by repeatedly putting out thin layers of resin or another material to build up the object based on a digital design.
"It's kind of like Star Trek technology, where you can press a button and the object pops out," Lacovara said, adding that a six-inch model of a bone can be printed in a few hours.
Because universities and museums generally frown on folks who want to experiment on actual fossilised bones, Lacovara used the printed bones to test out theories of how dinosaurs moved and stood and did the wild thing and other things boffins like to know.
Lacovara has been part of scientific teams digging up some of the largest known giant sauropod dinosaur specimens, which can reach weights of 55 to 72 metric tons, 12 or 14 times heavier than an elephant.
Unfortunately, working with life-size dino robots could be a wee bit tricky, not to mention the potential for a terrifying AI/Jurassic Park-spawned rampage, so Lacovara and mechanical engineer James Tangorra are working on scaled-down models of dinosaurs.
The pair reckon they'll have a working dinosaur limb by the end of the year, and a complete dino-robot in one to two years.
The boffins will also be using the 3D printing technology to create a "virtual zoo of cretaceous New Jersey", with models of 65-million-year-old turtles, crocodiles, fish and other animals found at a fossil dig site in the state. ®