This article is more than 1 year old
LOHAN's fantastical flying truss cleared for lift-off
Airborne handling test imminent
Our Low Orbit Helium Assisted Navigator experimental flying truss is just about poised for lift-off, but before it leaves the ground we thought we'd update LOHAN fans on the proposed test rigs.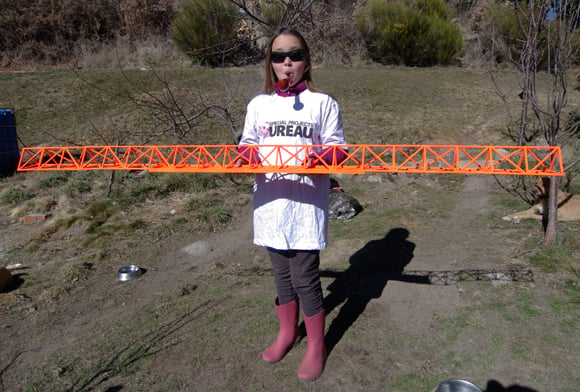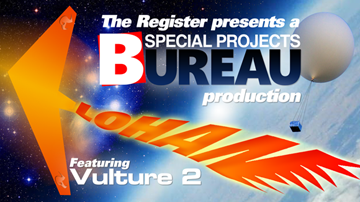 Our initial plan was to suspend the truss horizontally between two helium-filled meteorological balloons. That drew a some sceptical comments from you, our beloved readers, so we then proposed a single-balloon configuration, with the truss similarly horizontal.
That plan also went down like a lead balloon in certain sectors, so we've added a third suggestion to the possibilities: a single-orb set-up with inclined truss acting as the Vulture 2 launch ramp. Here are the three basic ideas (click on the image for a slightly bigger version):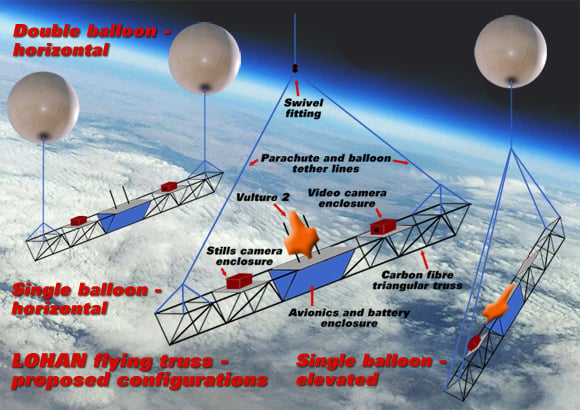 Obviously, in the elevated truss plan, the whole thing will have to be a lot wider than the Vulture 2's wingspan if our spaceplane isn't going to hit the suspension lines. The image is merely for illustrative purposes, just so you're clear.
In all configurations, we can try extending the suspension lines to put some serious distance between the truss and the balloon/s, thereby increasing the potential aircraft launch angle.
In the end, it's the set-up which is most stable, least complicated and – essentially – lightest, which will win the day.
The Reg commenters out there have offered some ingenious suggestions regarding the Vulture 2 suspension/launch methodology, but perhaps have not taken on board practical limitations.
The way we see it, these can be summarised as follows:
Weight: The more complex and bigger the design becomes, the more it weighs. This is a problem for both the helium lifting capacity and safety. This rig has to return to terra firma under a parachute, so the lighter, and smaller, it is, the less the potential risk to persons and property.
Complexity: It's all well and good adding more electronics or mechanical systems to the mission, but that's just more stuff that adds weight and can potentially go wrong. In any case, we prefer to use any extra lift capacity for more cameras.
Multiple balloons: These provide more lift, and can potentially go to a higher altitude, but there are potential stability/burst problems associated with twin/triple/quadruple orb set-ups. We're still convinced a single, big orb is the way to go.
Well, we're sure you'll chip in your usual observations on the revised test plan. As soon as the weather's right, and we've sorted a camera to stick on the fantastical flying truss, we'll be trying all three of the above configurations and shooting some vid for your viewing pleasure.
Yes indeed, we did manage to get our hands on some lifting gas and a few balloons, which should just about raise the 173g truss aloft...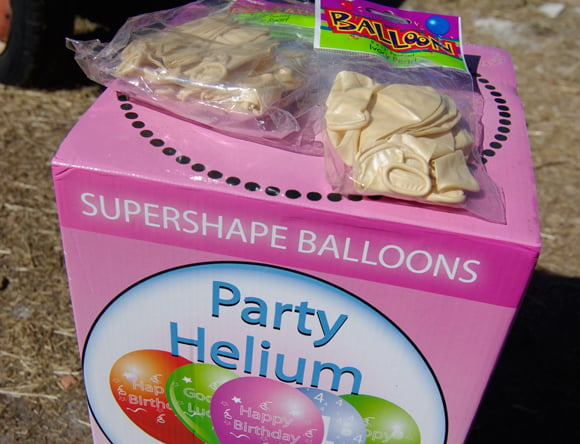 ...so watch this space for the results. ®
Further LOHAN resources: