Warming up exercises
Programming is simple from the front panel – which can be locked out from the web – as well as with an iOS app. The app itself is a little light on the eye candy, but does the job. A new version is promised soon, along with Android, which will support multiple thermostats, and detect whether you're on your home network or not. The web server is basic, but straightforward to use.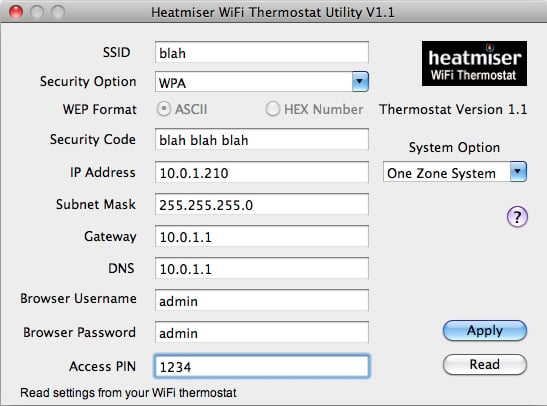 Configuration is easily performed with a Windows or Mac utility
There are some nice touches – you can 'override' a temperature until the next scheduled charge, or 'hold' it for a specific number of hours, in half hour increments, which is handy for a party, say. A holiday mode lets you say what day you'll be back, and the system will remain in 'frost protect' mode until then.
You can even set a 'warm up' period so that if the heating is set to go to 19 degrees at 8am, it will turn on an hour in advance to start warming up, and the thermostat will record the rate of change too. There's even a button that gives you 15 seconds to wipe the screen clean.
Home hackers will be pleased to note that the protocol for controlling the thermostat is fully documented, and there are already open source projects that work with it – setting up a perl script to log data and graph it was straightforward, and so too should be other ways of controlling the system.
My one complaint is that some of the more detailed settings are simply presented on the touchscreen as a parameter number and value, but as they related to things like pairing with the remote relay, or setting the 'frost' temperature, you'll generally only need to tweak those at instal time.
Verdict
If you want more control over your heating, want to integrate with other services, or simply find that a rigid schedule doesn't work for your comings and goings, the PRT-TS WiFi RF is well worth a look – and thanks to the remote switch, it's straightforward to instal if you have only a two-wire connection to your existing thermostat. It may be pricey, but it will give you more control over your energy usage. ®
More Gadget Reviews

Lantronix
xPrintServer
Lindy
Wi-Fi
projection server
H2O
Shower powered
radio
Marmitek
Gigaview GV820
wireless HDMI sender
Videotree
VideoSpa
bathroom TV

Heatmiser PRT-TS Wi-Fi RF thermostat
A flexible and versatile way to take control of your heating.
Price:
£199 (available in March) RRP