Toshiba Portégé Z830-10N 13.3in Ultrabook
Five and a half hours on the road
Review The last time I tested a Toshiba laptop, it had a glowing orange screen and the keyboard rattled like a box of Lego. Come to think of it, newspapers at the time were scaring readers about 'house parties', so it was quite a while ago. So perhaps you can imagine how utterly charming the pretentiously named Portégé Z830-10N appeared to me when it arrived.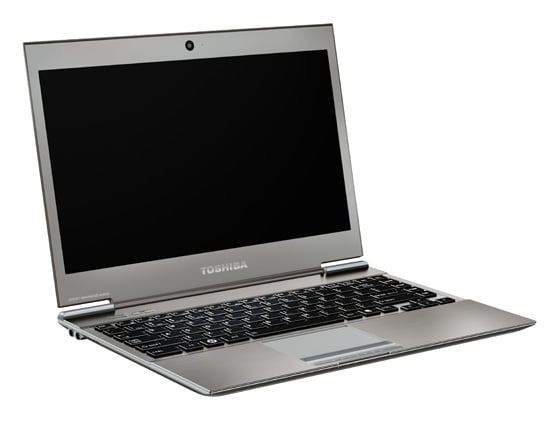 Toshiba's Portégé Z830-10N – call me a fashion victim but charcoal grey is soooo Nineties.
It's skinny – 10mm thick on average – and light – weighs less than two iPads – but in classic Toshiba form, it means business too. I don't mean in terms of performance, though: business doesn't need processing power, it needs connectivity, and the Z830 is a rare Ultrabook in letting you plug stuff into it directly. You won't need to buy, carry and invariably lose pocketfuls of port adapters.
First, a quick tour. The case is largely built from a dark-grey magnesium alloy, the only apparent seams being around the display, the keyboard and the trackpad. Although tougher and more resistant than plastic, this material is not rigid, so it is still possible to tweak and bend the screen.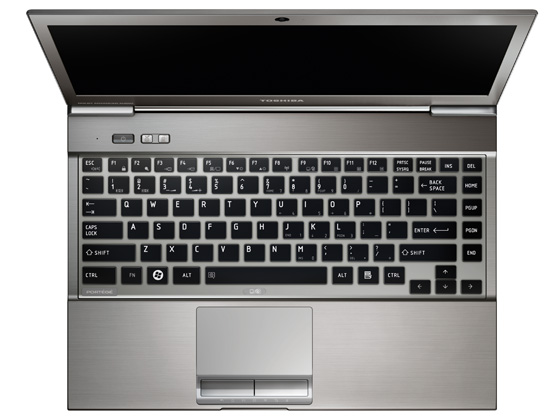 The keyboard has a bouncy rather than clattery feel, but those vertical cursor keys are too close
A sticker on the base warns: 'PC base and palm rest can become hot! Avoid prolonged contact to prevent heat injury to skin.' I can assure readers that the Z830 did not become hot or even lukewarm during testing. It runs cool and quiet.
Opening the clamshell is a bit tricky if you have cold hands, since the front finger recess to help you separate the screen from the body is barely a millimetre wide. Resisting the temptation to use a bread knife from the kitchen, I found the best technique was to rest the computer flat on one open palm and slowly tease up the lid with the fingernails of my other hand.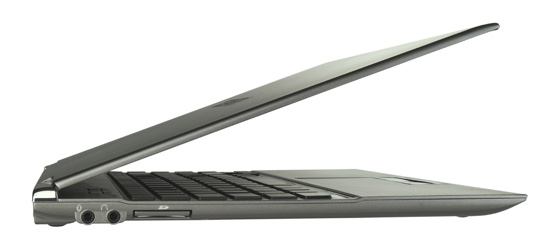 Separate audio in and out ports for those of us with standard headset mics
Frankly, I'm baffled as to why increasing numbers of manufacturers seem to be designing their notebooks to be difficult to open, but there you go.