This article is more than 1 year old
Dell mothership hovers over backup startup, beams it aboard
AppAssure absorbed into enterprise wing
Dell has acquired its own continuous data protection software by buying AppAssure for an undisclosed amount.
This is a significant purchase and potentially limits future sales by Dell of CommVault and Symantec data protection software.
AppAssure's technology for backup, replication and archive, is application-aware and tracks block-level changes in files. It can restore complete application infrastructures in minutes, via Live Recovery, or individual files or emails, and uses snapshot integration, deduplication and compression to reduce disk space and replication bandwidth.
It backs up VMWare and Hyper-V environments as well as Windows ones, and can backup and restore from physical to virtual (and vice-versa) or P2P and V2V. It supports Exchange, SQL, SharePoint and other Windows applications, and is useful for the cloud.
AppAssure was founded in 2006 in Reston, Va, by Najaf Husain, its CEO and president, and Dan Kyler, the chief architect. They and COO Todd Frederick were the group of people at WQuinn that created StorageCentral SRM for Windows.
AppAssure's funding comes from a single investor, Bain Capital, and just one recorded funding round, an A-round in 2008 for a paltry $6 million. It launched its first product, for Exchange, in 2007 and since then its growth has been little short of staggering: 420 per cent in 2009, 150 per cent in 2010 and 194 per cent in 2011 - that's 19 consecutive quarters of growth. It has more than 6,000 customers in over 50 countries.
The products have been tested to be faster than ones from Acronis and Symantec's Backup Exec. We reckon Dell's paying somewhere between $50 million and $100 million in cash and/or stock for this kit.
This is the first acquisition by Dell's new Software Group, presided over by John Swainson, an import from private equity firm Silver Lake and ex-CEO of CA. That group is tasked with adding to Dell's enterprise solution capability with Dell-owned IP.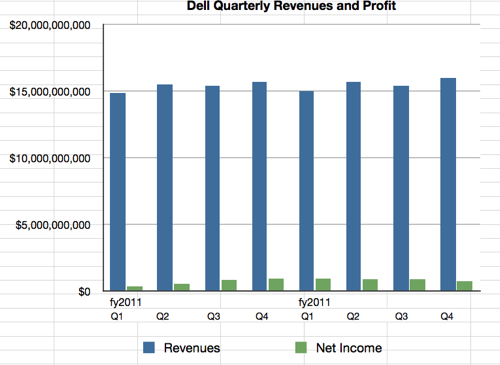 Dell's quarterly revenue and profit trend
Dell's latest financial figures (above) show it stuck in a flat revenue limbo facing declining profits. Recent organisational changes to sharpen sales and marketing and grow software revenues through acquisitions are intended to fix this.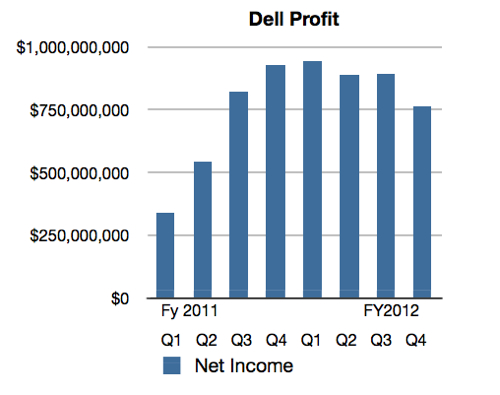 Dell's recent profit history
If we look at the recent quarterly profits trend picture (above) we see the revenue picture and profit situation clearly with a picture of three quarters of falling profit. The profit numbers are:
$945 million in Q1 fy2012
$890 million in Q2 fy2012
$893 million in Q3 fy2012
$764 million in Q4 fy2012
Enterprise software is where great growth is to be found and the new Software Group has to deliver the needed high-margin enterprise software sales. AppAssure is its first strike.
Dell says it will eventually develop AppAssure hardware products: "[We] will extend the benefit of AppAssure across our enterprise solutions and services portfolio. Initially, it will be a software-only solution, and then over time we will offer additional data protection solutions tightly integrated in our Fluid Data architecture as we've done with our other acquired IP, including EqualLogic, Compellent and the Fluid File System."
The 230 AppAssure employees should join Dell and the acquisition is Dell's 12th in two years. CommVault and Symantec better start planning what to do when if Dell reselling arrangements end in the next few years. ®