Steely-eyed industrial gumshoes in the east-central Chinese city of Wuhan have foiled a nefarious plan by dishonorable appliance punters to exploit the power of the Apple brand.
In the Qiaokou district of that riverside city of 10 million souls, a firm dishonestly identifying themselves as "Apple Limited" had – without legal approval from Cupertino, we can only surmise – used the trademarked "iPhone" brand and familiar bitten-apple logo to unjustly promote their own consumer-tempting shiny-shiny: a gas stove.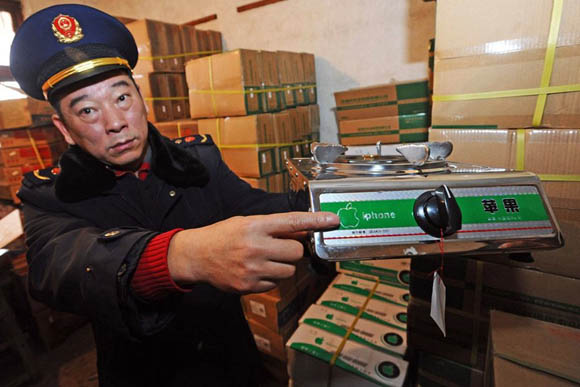 One of Wuhan's finest points to the offensive brand-theft abomination (click to enlarge)
There has been much mumbling of late among the chattering classes about Apple's possible move into the living room with the release of a large-screen, LED-lit television. Apparently this Wuhan-based "Apple Limited" cabal was betting that the Apple television's halo effect might reach down the hall and into the kitchen.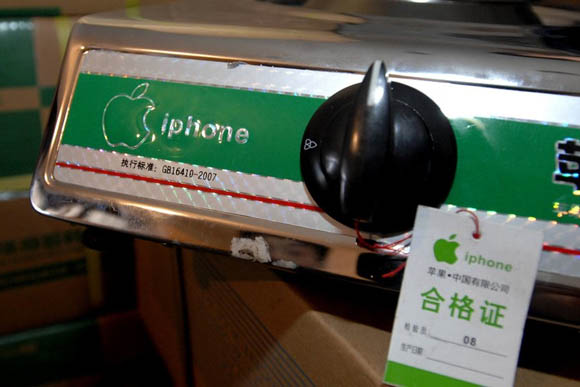 Not only the logo and name were ripped off, but notice the iPod-like circular control wheel (click to enlarge)
The news site reporting this atrocity, NetEase, said that 681 of the offending counter-top cookers were seized in the raid, but they made no mention of whether Wuhan's "Apple Limited" mob had any connection with Shenzhen-based Apple antagonist, Proview. ®
Sponsored: Ransomware has gone nuclear