More than 800,000 US homes have signed up for Ultraviolet, the Hollywood-backed movies-in-the-cloud platform. And they've used it to download more than 1m copies of films.
Not bad numbers for a service that only went live four months ago.
That said, that total was dwarfed by the 19m digital movies that market watcher IHS, which supplied the subscriber-base estimate, reckons were purchased and downloaded from the likes of Apple's iTunes and Microsoft's Xbox Live in 2011, let alone the 504m DVDs and Blu-ray Discs that were sold in the States during the year.
UV provides punters with the ability to download free copies of films they've bought on disc, the notion being that this will remove at least one of the barriers to buying optical media: if you want to watch it on a different device, you have to rip the disc, nick a digital copy off the net, or buy it again.
Content can be bought online too, allowing you to dispense with the disc altogether. UV will remember your purchases, so you can download or stream them whenever you want to - it's not a one-off process.
UV is vendor agnostic too. Buy a movie from Paramount's UV-based online store, say, and you should be able to view it on Warner's tablet app.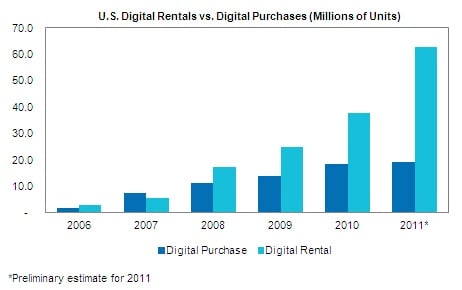 Source: IHS
Purchasing is one thing, but digital movie rentals have considerably outpaced digital purchases in all of the past three years, IHS' figures show. It estimates there were more than three rentals for every purchase in 2011.
That's thanks to aggressive promotion of streaming services by the likes of Netflix and by iTunes' rentals, all of which eat into movie companies' sales revenues. ®