The latest data from the Pew Research Center shows men to be the least privacy-conscious people online, and the most likely to make a gaffe on social networking sites.
The study of US social-networking users found that privacy controls are certainly popular among those who use such sites, with over half setting their accounts to private. Women are much more circumspect, with two-thirds opting for privacy compared to 48 per cent of men. Fully public accounts are nearly twice as likely to be owned by blokes.
Men are also almost twice as likely to post something they regret on social-media sites – 15 per cent compared to women at 8 per cent – and young men are the most impetuous of all when it comes to sharing personal details. Women are also far more likely to prune their list of contacts on a regular basis.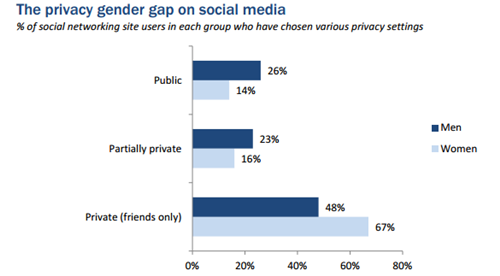 The fairer sex smarter on privacy then men
Around half of users found existing privacy controls somewhat difficult to use, but the data found that the smarter your background, the dumber you are on this skill. In all, 62 per cent of college graduates had problems, compared to 42 per cent of their lesser-educated brethren. Only 2 per cent of all users reported having serious difficulties with privacy settings.
Generally, people are becoming pickier about what goes online since the last Pew survey on this topic in 2009. Relationship-pruning, comment-deletion and photo-untagging are all on the rise, although in the latter case this may have been spurred by the increasing automation of image-uploading from camera phones, the researchers note.
From the 2,277 people sampled, 93 per cent had a Facebook account, with 23 per cent still using MySpace – down from 48 per cent in 2009. Just over one in ten people regularly used Twitter, nearly double the number from the last survey. ®
Similar topics