Sony NEX-5N 16.1Mp APS-C compact system camera
Mirrorless makeover
Not so flash
Another annoying design flaw is caused by the accessory flash unit mounted on the hotshoe. When not in use it folds flat but gets in the way of turning the zoom ring. The result is quite frustrating – if you want to travel the whole focal length of the zoom with the flash attached, you have to do it in several progressive movements.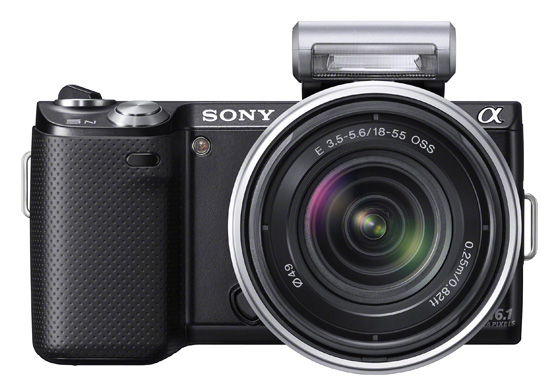 Flipping flash
And if you force your hand past the flash unit in one sweeping movement, as you naturally would, you inevitably hit the flash and make it unfold and engage. Shame, as a retractable or fixed flash unit would have solved this problem.
I encountered other issues that prevented me from fully enjoying using the Sony NEX-5N. For instance, the on/off switch is extremely stiff while feeling rather plasticky – an altogether unpleasant combination. Also, the flash unit is rather tricky to screw on and off, as the screw dial is buried so deep within the base of the unit that your fore finger struggles to reach it. And I certainly don't have large fingers.

Minimal controls will suit some, but not all
The Sony NEX-5N is quite devoid of physical buttons. All that's on offer are the shutter release, on/off switch, playback and direct video recording buttons on the top plate and a four-way control dial plus two unmarked flat buttons on the right of the screen. Take a moment to customise those two buttons and the camera can be fully operated from these sparse physical controls.
The NEX-5N now utilises an intuitive and well-organised touchscreen interface. On the right of the LCD screen there is a menu option with large icons that gives you access to all camera settings organised in scroll-down lists that are very fast to browse, if a little long. There is also a cute virtual PASM dial to replace the lack of a physical one with its own scene sub-menus easily accessible.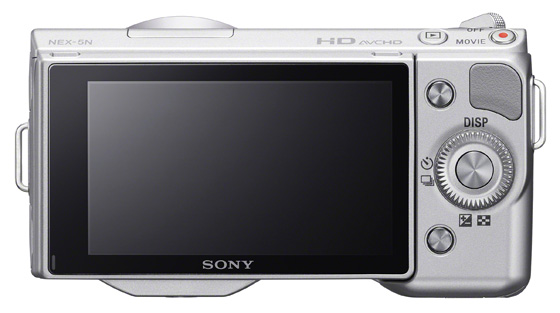 The two plain buttons on the back are user assignable
All in all, this entire dual control solution works really well, as the screen is responsive and the menu layout intuitive enough. At least once you get used to Sony's odd naming of some of the menu folders. The brightness/colour menu, for example, does not actually deal with either brightness nor colour per se, but instead with settings such as ISO, Exposure Compensation, WB, Metering Mode, Picture effects and Creative Styles.