Sony NEX-5N 16.1Mp APS-C compact system camera
Mirrorless makeover
Touch and go
The one massive benefit of the NEX-5N's interactive screen is its ability to set the focus at the touch of a finger, which is always handy and its responsiveness is good for such things. However, the display's sensitivity sometimes caused settings to be inadvertedly changed either while shooting or carrying the camera, and on occasion even images were deleted. Another issue is the lack of a user-defined menu in the on-screen interface.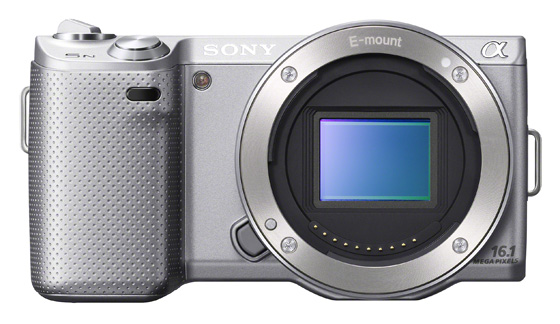 The new 16.1Mp APS-C sensor offers improved sensitivity
Aside from its capacitive touchscreen technology, the 3in 922k-dot resolution LCD screen can also be tilted 80 degrees upward and 45 degrees downwards to facilitate framing from different shooting positions. The screen itself is bright and crisp with good detail and anti-reflective technology.
The NEX-5N sports a revised and improved version of the Exmor APS HD CMOS DSLR-sized 16.1 MP sensor first introduced with the NEX-C3, which coupled with an ad hoc optimisation of Sony's BIONZ processing engine, produces beautifully detailed and colour-rich images.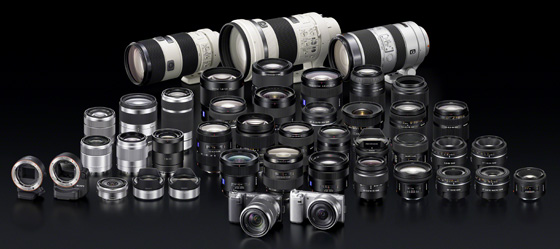 With the latest adapters NEX E-mount cameras can fully utilise A-mount lenses too
Besides larger images, the sensor upgrade also features sensitivity improvements, now pushed from ISO 100 to ISO 25,600 with good noise characteristics across the entire range. Dynamic range is also surprisingly wide and balanced for this class of camera, while the 49 multi-segment metering system does an excellent job at getting the right exposure first time around in virtually all shooting conditions.
The 18-55mm zoom lens, with a maximum aperture of f/3.5 at wide angle and f/5.6 at full telephoto, might be large but is solidly built and has a pleasingly smooth zoom and focusing ring operation. It is not the sharpest zoom around but certainly a very decent kit lens. The choice of NEX E-mount lenses is increasingly along with improved compatibility with all Sony, Minolta and Konica-Minolta A-lenses.