Sony NEX-5N 16.1Mp APS-C compact system camera
Mirrorless makeover
Light work
The NEX-5N has a wide range of finely crafted effects that will surely appeal to the enthusiast photographer. From the clever Defocus Background, which lets you produce professional-looking and user-defined shallow depth-of-field images, to the smooth Sweep Panorama mode that allows you to create perfectly stitched panoramas just by panning the camera, although for some reason the camera tends to overexpose in this mode.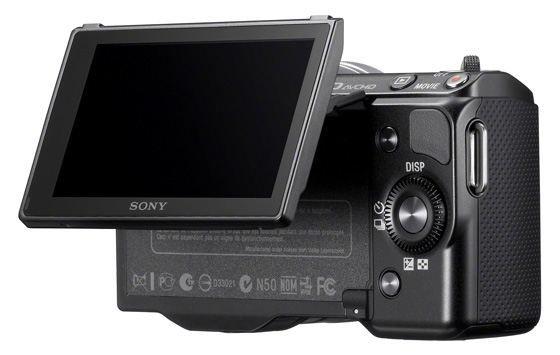 Besides tilting, the display features touchscreen focusing
Additionally the NEX-5N offers a choice of 11 Photo Creativity modes, including High Contrast Monochrome, Partial Colour, Retro Photo and Soft High-Key, and another 11 art effects available in PASM mode and including Toy Camera, Pop Colour, Soft Focus, HDR Painting, Rich-Tone Monochrome and Miniature.
Image quality is not the only outstanding feature of this camera. If you want a fast CSC shooter the NEX-5N is up your street. With a shutter lag of mere 0.02secs and continuous shooting speed of 10fps at full resolution, the NEX-5N is as fast as it gets. Although the 25-points contrast-detection AF system performed well both in daylight and available light, it was not as fast as I'd expected it from the general performance of the camera. Having said that, the system is reliable and accurate in all situations.
The NEX-5N captures Full HD 1920 x 1080 pixels videos in AVCHD or MPEG-4 file formats at a maximum frame rate of 60fps. Video quality is smooth and sharp with very good sound reproduction. Video recording also benefits from full exposure control in PASM modes and excellent AF performance.
Eye spy: the FDA-EV1S optical viewfinder
Battery power has increased to 410 shots and the availability of optional accessories such as ECM-SST1 microphone and crucially Sony's new FDA-EV1S electronic viewfinder (EVF) make this camera a very versatile and customisable tool, although at extra cost. The NEX-5N has a sensor cleaning system but judging from the dust specs I found on some of my photos it does not work perfectly and I had to resort to manual cleaning several times.
Verdict
The niggles I mentioned earlier might not be major sticky points for all users but they did put me off from recommending this camera wholeheartedly. It is quite unfortunate because in all other respects this revamped NEX model is very much the business, improving on its predecessor in sensible and efficient ways. ®
More Compact System Camera Reviews…

Pentax
Q
Samsung
NX200
Olympus
PEN Mini
E-PM1
Sony
NEX-C3
Nikon
1 V1

Sony NEX-5N 16.1Mp APS-C compact system camera
It's now the mid-range NEX model but upgraded with a touchscreen and a 16.1Mp sensor.