This article is more than 1 year old
Dell flashes enhanced 12G racks of PowerEdge gear
Plus tower and cloud packages unveiled
To say that the x86 server makers are a little anxious for Intel to launch the "Sandy Bridge-EP" processors and get the Xeon E5 transition under way is a bit of an understatement. They are positively champing at the bit.
Hewlett-Packard previewed its ProLiant Gen8 machine based on the Xeon E5s two weeks ago at its partner conference, and today Dell is hosting enterprise events around the globe to lift the veil a bit on its impending PowerEdge 12G iron.
Intel, of course, has not yet announced the Xeon E5s, and has said so far that it will only get the much-awaited processors out the door sometime in the first quarter. These processors will represent the bulk of CPUs sold into the server market in 2012, which is dominated by two-socket machinery in general and Intel Xeons in particular if you're talking about units shipped.
Dell can't talk about the specific processor options inside the new PowerEdge servers or the prices on the new boxes, but many of the feeds and speeds for the PowerEdge 12Gs are being divulged ahead of when they will begin shipping in volume in March.
For its PowerEdge 12G server launch, Dell has bent metal around the Xeon E5 processors in a number of different shapes and sizes, including one tower, three racks, one blade, and one cloudy box. The company is also whispering a bit about a future four-socket server aimed at database workloads.
Brian Payne, executive director of PowerEdge marketing at Dell, tells El Reg that the new PowerEdge 12G machines were designed with input from more than 7,700 customers from around the planet. Presumably this input was solicited formally by talking to existing PowerEdge server customers, and informally by talking to customers of other boxes.
Rack servers get a lot of the attention in the systems business, but you could argue that Dell's server business got its toehold thanks to cheapskate small and medium companies that started out with Dell desktops and laptops, graduated to a baby tower server, and then eventually grew into racks. (Or, as happens in many cases with no shame, a business stays small and doesn't need more than a tower server.) The point is, a significant number of Dell's x86 server shipments are in tower machines.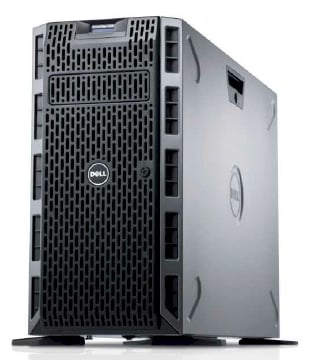 The workhorse tower: The PowerEdge T620
The new PowerEdge T620 is the kind of two-socket box that will probably be overkill for most small businesses, but a business that wants to buy with future expansion in mind would probably do well to think about buying a T620 instead of smaller single-socket T110 II or T310 series machines. The T110 II can be equipped with dual-core Celeron G530 or quad-core Xeon E3-1220 processors (found in the Sandy Bridge family, launched this time last year) while the T310 uses dual-core Celeron G1101 or quad-core Xeon X3440 processors from earlier generations.
The T620 can support up to 24 memory slots and a maximum of 768GB of capacity using 32GB DDR3 DIMMs, and has a whopping 32 drive bays for disk and flash storage in 2.5-inch form factors or a dozen drives in 3.5-inch sizes. Using disks, it tops out at 36TB of storage capacity.
The T620 supports a wide range of SAS and SATA drives spinning at 7.2K, 10K, and 15K RPMs, and has two Gigabit Ethernet ports on the mobo. The system has four x16 and three x8 PCI-Express slots, presumably running at the PCI-Express 3.0 speeds that supercomputers based on early shipments of Xeon E5 server nodes have sported.
Dell's PERC internal RAID and plain-vanilla controllers are also available on the T620, and the next-generation iDRAC 7 service processor that is part of all PowerEdge 12G servers is also in this machine. (The controller comes in Express, Enterprise, and Lifecycle Controller variants. More on that in a minute.) The PowerEdge T620 has three platinum-rated power supplies with 495, 750, and 1100 watt draws.
Rack 'em up
The PowerEdge R620 has similar feeds and speeds as the T620, and puts two Xeon E5 processors and up to 768GB of memory into a 1U rack chassis. The machine has enough room for up to ten 2.5-inch SSD flash drives or SATA or SAS disks (all of them hot pluggable) or for four hot-plug drives (SSD, SATA, or SAS) plus two fatter SSDs that link directly to their own PCI-Express slots rather than linking to the CPU through a Dell PowerEdge RAID Controller (PERC).
Options include the PERC S110 with software raid, the PERC H310, H710, and H710P for internal RAID arrays, the PERC H810 for external RAID arrays, and a non-RAID SAS disk controller sporting 6Gb/sec ports for external JBOD arrays.
If you want disks for storage capacity, you can have up to 10TB in the R620 racker. If you want a 10-drive bay option, you can have three x16 PCI-Express slots (one of them only has x8 bandwidth), and if you go for the SSDs running on their own PCI-Express slots, then you can only have two PCI-Express slots (again, one of them an x16 connector but only an x8 slot's worth of bandwidth.)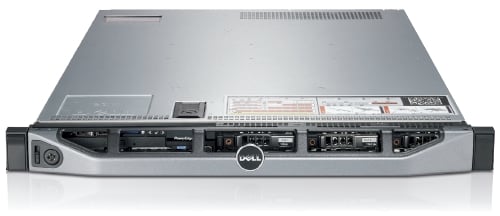 The workhorse racker: The PowerEdge R620
For networking, the PowerEdge R620 has a number of different options that snap into the mobo and therefore don't eat a peripheral slot. Dell is offering a quad-port Gigabit LAN-on-motherboard (LOM) daughter card from Broadcom that snaps into the R620 as well as a dual-port 10 Gigabit Ethernet unit that has SFP+ connectors and TCP/IP and iSCSI offload capabilities.
Dell also has network ports derived from Intel circuits, including a quad-port Gigabit Ethernet daughter card and another one that sports one Gigabit and two 10GE ports with Fibre Channel over Ethernet enabled on the 10GE ports. This machine does not support a snap-in for InfiniBand or for faster 40Gigabit Ethernet, but there's no reason that Dell's engineers cannot add this at some future point – particularly if supercomputing and database cluster customers ask for more bandwidth.
The PowerEdge R620 has 495 watt and 750 watt power supplies with a platinum efficiency rating and 1100 watt units with a platinum+ rating.
The PowerEdge R720 is a fatter version of this two-socket Xeon E5 box, with the same 768GB of max memory but because the chassis is twice as high at 2U, this rack machine can cram in more peripheral slots and storage.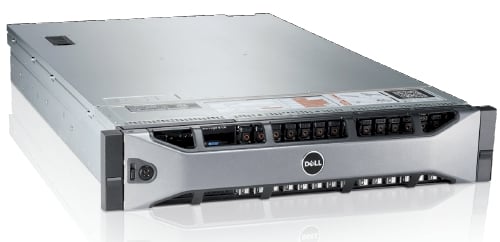 The 2U PowerEdge R720 rack server
Specifically, the R720 machine has room for eight 3.5-inch drives or sixteen 2.5-inch units, and packs the same PERC controller options as the R620. It has seven PCI-Express slots (again, presumably at the 3.0 bandwidth): four x16, two x8, and one x8 with an x4 slot's bandwidth. The PowerEdge R720 has the same network daughter card that the R620 does, offering a mix of Gigabit and 10 Gigabit ports. It has platinum power supplies at 495, 750, and 1100 watts.