Intel smartphones coming to the UK, France, China, India
New high-end, low-end chips at 'twice Moore's Law'
MWC 2012 Intel has announced three new partners that will soon offer smartphones based on Chipzilla's handset reference platform, and has provided more detail about its mobile-chip roadmap.
Execs from Europe's Orange, India's Lava, and China's ZTE took the stage with Intel CEO Paul Otellini at the Mobile World Congress in Barcelona to announce their upcoming smartphones. The three new partners join Lenovo and Motorola, who announced their Intel partnerships last month at the Consumer Electronics Show in Las Vegas.
Yves Maitre, Orange SVP for mobile multimedia and devices, said that his company's Intel-based handset would be a "true mass-market device", and not focused on the "elite" market. The Orange-branded handset, Maitre said, will be first available in France and the UK this summer.
Vishal Sehgal, cofounder and director of India's fast-rising Lava, now in only its third year of existence, noted that between 150 and 200 million phones are sold in his country each year. Until about two years ago, he said, the bulk of those sales were of feature phones, but smartphones are now catching on and should reach about 50 million annual unit sales in two years.
Lava wants its chunk of those sales, of course, and will launch the Intel-based XOLO X900 next quarter to compete in the nascent Indian smartphone market. The XOLO X900, Sehgal said, will be "all about speed", powered by a 1.6GHz "Medfield" Atom processor that he claims will provide "a browsing speed that is almost two times that of our latest competitors in India in the similar price range."
Appearing for ZTE was executive vice president He Shiyou, who provided little detail about his company's planned Intel phone, other than to say that it would be available in the "second half of this year," and that after that phone hit the streets, ZTE would follow up with an Intel-based tablet.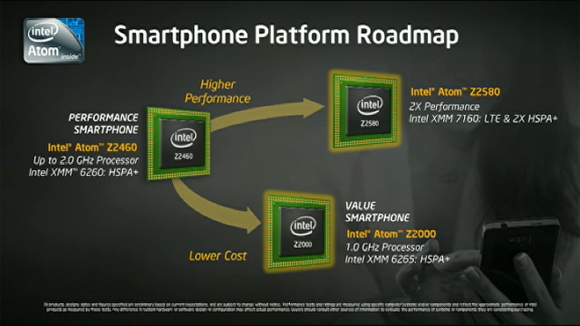 Intel's smartphone-processor roadmap aims both high and low
"It wouldn't be an Intel presentation if we didn't have a roadmap," Otellini said as he rolled out said roadmap to the assembled reporters. The Atom Z2460 is shipping today, and will be followed by the Atom Z2580. "Essentially that product will double everything," Otellini said, referring to the Z2580. "It will double the performance in both CPU and graphics. We're going to have faster HSPA, and we're going to add LTE." The Z2580 will appear in Intel's 2013 smartphone reference design.
"We're not just focusing at the high end of the market," Otellini said, "we're also focusing at the market that I think the feature phones are evolving to, which are essentially lower-cost smartphones." The target unsubsidized selling price of phones based on the upcoming Atom Z2000 and running Android will be under $150, he said.
Otellini also noted that this year's smartphone chips will be built using a 32nm process, next year's on 22nm, and that 14nm smartphone processors will debut in 2014. "What you've got here is a rate of product improvement in our smartphone product line that is twice Moore's Law," he said.
Intel may be late to the smartphone-processor battleground, where ARM is deeply entrenched, but it appears to be ready to go the distace in a market in which it must succeed if it's going to remain a consumer-level player. "This is something that we're doing sort of slowly and surely," Otellini said, "and you'll see more and more capabilities, partners, announced over the course of this year and into next year as well." ®