This article is more than 1 year old
Apple issues invitations to March 7 iPad roll-out
'We have something you really have to see'
Apple has issued invitations for a March 7 event that will presumably – based on the iPad image that graces the email invite – introduce the oft-rumored iPad 3 with a "retina display", possibly with a resolution of 2048-by-1536 pixels.
"We have something you really have to see. And touch," reads the invitation, hinting that what the invitees will "see" is an updated display.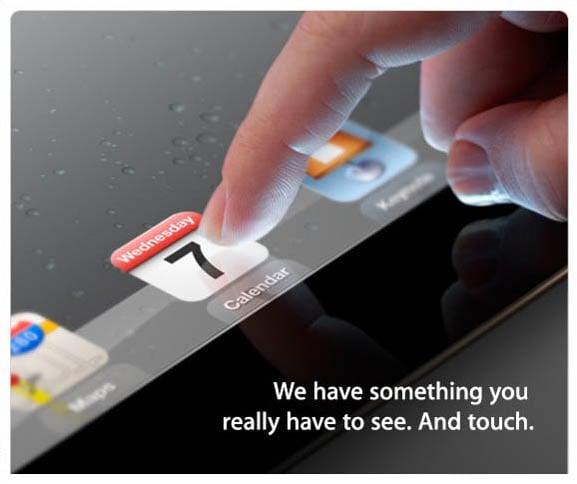 Did you receive your invitation on Tuesday morning? Thought not (source: Macworld)
The event will be held in the Novellus Theater at San Francisco's Yerba Buena Center for the Arts, which has been Apple's go-to venue for product roll-outs in recent years, including the introduction of the original iPad in January 2010.
Divining product details from Apple invitations has been a long-standing tradition for those following the notoriously secretive company, but Tuesday's invitation provides little for fanbois to fantasize about.
For example, will the iPad 3 support LTE? No hint. A dual-core processor? No clue. Will the standard 9.7-inch iPad form factor be accompanied by a smaller sibling in response to the success of the hot-selling-but-flawed Amazon Kindle Fire? The oracle is silent.
Tune in at 10am Pacific Time on Wednesday, March 7, to get The Reg's take on Apple's Next Big Thing™. ®