Apple pledges 'something to see' at iPad 3 launch
Invites go out to (almost) all
---
Apple has mailed out invitations to its eagerly awaited iPad 3 launch on 7 March, telling World+Dog it has "something you really have to see".
That's undoubtedly a reference to the new tablet's 9.7in, 2048 x 1536 display, which will offer a higher pixel density than even the 10.1in, 1920 x 1280 panel Asus announced this week it will build into its upcoming Transformer Pad Infinity.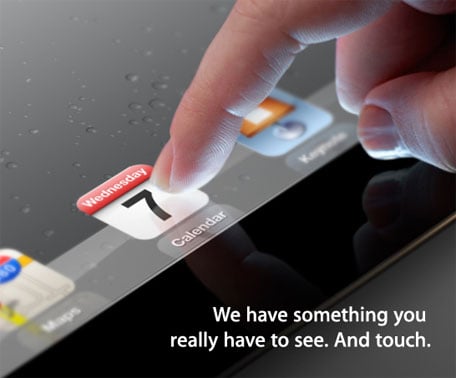 The launch will, as expected, take place at 10am next Wednesday, 7 March at the Yerba Buena Center for the Arts in San Francisco.
Other features expected to be included in the iPad 3: an upgraded Apple A5 processor, the A5X, more memory, Siri voice assistant tech, and LTE '4G' connectivity.
Is the A5X a quad-core part, or merely a higher-clocked version of the A5 CPU included in the iPad 2? Or will Apple cut straight to the quad-core A6? We'll find out next week. ®