Cineworld flaunts '4D' movies
You'll be shaking in your seats - literally
British cinema chain Cineworld has announced it will branch out beyond mere 3D offerings - 'Pah!' - into a fourth dimension, with vibrating seats (ahem) that synchronise their shaking to the action on screen.
The company will open the first of these movie houses in Glasgow next month, fitting 35 seats from simulator specialist D-Box.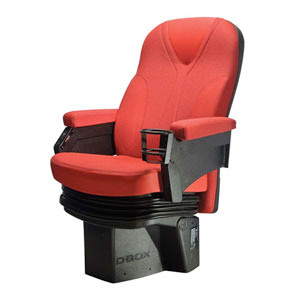 According to D-Box, more than 900 films contain codes that support its tech, and it's pushing for its system to become a new global standard.
From 9 March, visitors to Cineworld in Glasgow's Renfrew Street will be able to use the new chairs, literally shaking in their seat to the latest horror, or swaying with the ship in the next Pirates of the Bahamas film.
The D-Box tech will be fitted in five further cinemas in the not too distant future, including the Cineworld O2 Greenwich, Cineworld Crawley and Cineworld Milton Keynes, the chain said.
Cineworld plans to roll out multi-sensorial arenas across additional sites over the next two years. ®