This article is more than 1 year old
Mobile net kingpins v the world: 'Why should we pay the 4G tab?'
The data crunch is coming – and Apple makes the crunchiest phones
MWC 2012 Life's tough for a mobile operator. The regulators treat you like a cash cow and the over-the-top services are leeching all the money. And unless we get back to the good old days of the 1990s, they "won't be able to make the investments necessary for 4G".
This was the tone of the Mobile Operator Strategies Keynote at Mobile World Congress. Demand for data both from people and connected devices was as much a challenge as an opportunity, the speakers said.
The elephant in the room was Apple, and although the fruity firm was never mentioned by name, there were enough disguised side-swipes to make swatting them fun.
The speakers were Anne Bouverot from the GSMA; Li Yue from China Mobile; Ralph de la Vega from AT&T; Vittorio Colao from Vodafone; and Franco Bernabè from Telcom Italia. Between them, the five of them run the mobile phone networks for billions of people. Numbers they kept revisiting included predictions of billions more connected devices.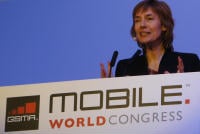 Anne Bouverot kicked off
the Mobile World Congress Keynotes
Anne Bouverot, the new director general of the GSMA and formerly of Orange set the scene. She said that if regulators didn't play ball on spectrum, the operators would not be able to deliver the services for education, healthcare and finance. She couldn't resist a plug for her particular passion: NFC.
What was especially refreshing was that none of the speakers mentioned delivering shareholder value.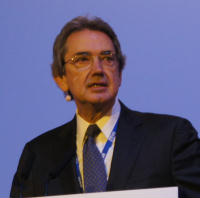 Franco Bernabè from Telcom Italia doesn't
like phones that misbehave on networks
Franco Bernabè is not just the CEO of Telecom Italia Group, he is also the chairman of GSMA, which appointed Bouverot as its DG last year. He echoed her comments about growth and regulation, saying that while there was a slowdown in the growth of active SIMs, the move to machine-to-machine (M2M) would change this and that the growth of mobile internet would help the poor to access education, healthcare and banking. He plugged SIM-based (single wire protocol) NFC and said he expected it to be responsible for $50bn of transactions in the next few years. (I've included this here so that in a couple of years I can come back and laugh at it.)
"Cloud services need to embrace security and are part of the operators' DNA," Bernabè said. He said operators need to lead the way, regardless of device and OS. He also talked about how the emergence of over-the-top players such as Skype has changed the market as both a "disruptive threat" and an opportunity. He said OTT players had understood, and at times generated, consumers' need for mobile data, which has built up its use to such an extent that the operators last year handled 600 petabytes of mobile data – more than whole internet traffic two years ago.
Making this run smoothly and economically is difficult and he railed against network outages caused by "smartphone" signalling overloads. By this he almost certainly meant Apple, although he didn't say as much. Apple is well-known for dodgy signalling, although it has worked with Nokia Siemens Networks to reduce the problems on the manufacturer's infrastructure, and with Google, whose VoIP app crashed the NTT DoCoMo network.
The problems are going to become more acute: smartphones are only 12 per cent of the installed base yet they account for 80 per cent of the data traffic. The most expensive users to run are those on Apple phones and tablets, although, again, Bernabè did not mention this. You start to wonder how devices with poor signalling and massive data appetites got a foothold among the operators, who usually have such strict approval demands.
As those customers become more demanding and as more people drop their feature phones for smartphones, Bernabè said he expects data consumption to rise by 18-fold over the next five years. There will be 353 million LTE devices in use in 2015 and getting all this working needs investment, he said.
And it's all tough on the operators. Average revenue per user is down from €26 in 2006 to €20 in 2011, yet building the networks to support the increased demand will cost the mobile industry $300m. He said that the business model needs to be revisited, so you might wonder who he thought was making all the money from the music and apps being downloaded to all those smartphones.