This article is more than 1 year old
Mobile net kingpins v the world: 'Why should we pay the 4G tab?'
The data crunch is coming – and Apple makes the crunchiest phones
A little platform to support, er... a 3.7 million-person 'niche' group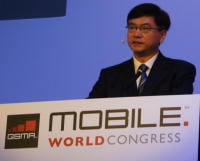 President Yue thinks 3.7 million
students a bit of a niche
Li Yue runs the biggest mobile phone network in the world, and it is only now moving from voice-centric to discovering data. He said that in the past, the function of China Mobile was to provide a service which allowed manufacturers to sell hardware, but that this was going to change.
He said this would require an open platform. He said China Mobile was building in vertical markets, including a system for college leavers developed in conjunction with 2,000 universities which will support 3.7 million users.
The numbers in China are big. Yue added that China Mobile is launching its own portal with content from most of the big companies like Disney. It's a road which most of the Western operators have trodden, failed in and ceded to Apple. Even in China Apple does much bigger numbers, but President Yue sees that as showing the scale of the opportunity.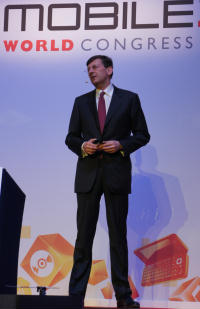 Voda boss Vittorio Colao could do so much
good in the world if regulators
would only cut him some slack
Vittorio Colao, Vodafone's chief executive, was just as excited as everyone else about figures. When consumers were asked what they would give up in exchange for a smartphone, 70 per cent said alcohol, 63 per cent said chocolate, 55 per cent said caffeine, 54 per cent exercise, 33 per cent sex and 22 per cent their toothbrush. Colao said he was surprised people valued a smartphone above "a really good session of eating chocolate", but was reassured that the survey only asked for a week's abstinence – so the world's population was safe and he didn't have to worry about penetration.
More market research showed how people mix work and leisure usage of their devices with 57 per cent using email, 53 per cent browsing the web, 38 per cent using social networking, 30 per cent downloading content, 25 per cent uploading content and 20 per cent streaming content. Colao said that data now accounted for 15 per cent of revenue, which falls far short of Vodafone's February 2000 prediction that data would grow revenues by 20 per cent.
Vodafone is good at understanding what consumers want, and is building a model on those demands. This is a huge amount of high quality data being transported which will need more infrastructure, particularly to deal with more video traffic.
Voda has lots of contact with consumers and works hard to keep itself well-regarded, Colao said. The world's eighth largest retailer also maintains contact with its users through YouTube and Facebook and allows its customers to buy stuff over the web but close the transaction on their phones. Building trust through all these channels plays to a customer need for security and privacy for all kinds of users, Colao said. This includes both corporate data and the protection of minors – and it all needs to be done easily with good tariffs and operator billing. Integrating all these aspects will need co-operation between fixed and mobile operators and an enlightened attitude from regulators, he said.
Get it right and there could be good social benefits: Vodafone technology could help farmers across the world increase incomes, he said. He cited a figure of $140bn by 2020. He said a scheme in Turkey that cuts out the middleman between the farmer and the buyer – and gives farmers real-time prices of crops in different markets through SMS – already has 600,000 farmers signed up. The use of SMS for stock control of malaria drugs has eliminated a substantial problem of centres running out and an education programme for children in India has been rolled out to 1,000 schools, he said. Colao also spoke about a charity programme run by Vodafone to eradicate obstetric fistula in Tanzania which has collected over €4m, adding that donations were being accepted on the Vodafone stand at the exhibition.
But being a good corporate citizen is expensive. LTE will cost Vodafone €30bn euro just in Europe and Colao wants regulators to cut him some slack. In particular he opposed the "autopilot of regulation with mobile termination rates (MTR)".
He provided an example. When you pay BT to make a call to a Vodafone customer, Vodafone bills BT: that rate is set by Ofcom. It has been driven down over the years on the premise that if BT pays Vodafone less, they will charge you less. Colao said that this was not true, and that "out of a 10 cent drop in MTR, only 2 cents ends up in the pockets of customers". If governments keep reducing revenue through pressure on MTR and roaming rates, and customers continue to consume more data, but pay less and less, the mobile industry wouldn't get the necessary infrastructure to support them, he said. This needed "effective industry collaboration for new services and networks", he said.