Nokia opens e-books for WinPho mobiles
It's an Instapaper clone too
---
MWC 2012

Nokia has launched an e-book reader app for its Lumia smartphones.
It also plans to take on the likes of Flipboard and Instapaper by pulling down web content and social network updates and presenting them magazine-style on its handsets' screens.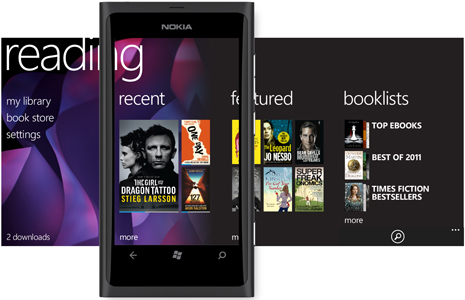 Nokia Reading - which, for British readers, might suggest there's a Nokie Wokingham or Nokia Swindon in the works* - will go live in April to deliver what the Finnish phone giant called at "reading hub".
There will be the inevitable online bookshop filled with books from major publishers and the inevitable free, public domain material from the likes of Project Gutenberg.
Judging by one Nokia write-up, if you've used Amazon's Kindle app for iDevices and Android kit, you'll have a very good idea what Nokia Reading will deliver.
Unlike the Amazon app, or Apple's iBooks, say, Nokia Reading will sport "a personalised magazine page that updates content across the most popular categories, and adds web content from your chosen sites", a trick borrowed from a number of popular apps such as Instapaper.
There's no word yet on what formats Nokia Reading will support should you wish to use other online shops, or to copy over e-books already in your possession. ®
*Blame Nigel W for that one.