MWC 2012 Calling a company Antenna when what you make is an abstraction platform, rather than antennas, might not be sensible – especially at a congress stuffed with mobile techies – but what the firm actually does works well for the trend of this age. Technology follows fashion more than we'd like to admit, and apps are where it is at.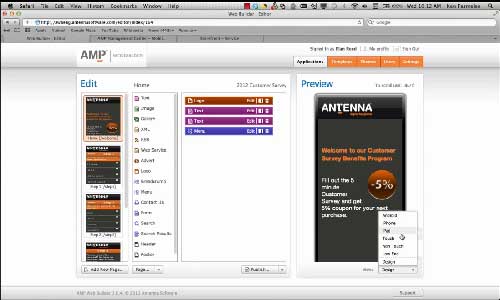 AMP Chroma lets you write once and run many. Where have we heard that before?
Just as companies in the '90s embraced DTP and had to push out a font-riddled newsletter, then a decade later a FrontPage-produced website, today it's the company app which makes the marketing director think he understands something technical.
At Mobile World Congress, Antenna is trying to lure the attention of IT departments which have to support these follies and has launched a set of tools to make it easy to deal with the marketing bods' demands. The product even comes with all the right buzzwords: "AMPchroma is a suite of cloud products to address the entire mobile life cycle". Note how they work the word "cloud" in there instead of saying "server-based".
To help knock up your corporate app there is a set of pre-built components, gadgets and widgets with a good level of control. You can either use a drag-and-drop builder or an Eclipse based IDE to run under Antenna's platform, within the browser or across both. Coding is in Java or JavaScript, which Antenna calls "native" to distinguish it from running on the server, cough, sorry, cloud.
Clients support iOS, most flavours of Android, old and new Windows phones and Blackberry. There are wizards to convert between the drag-and-drop and the Eclipse environments. There is some clever back-end stuff which means devices talk to Antenna's servers but the data that is pulled in lives on the corporate server, and there is a clear understanding that mobile devices are not always connected.
Antenna sees its system as being used by each of its customers to create a large number of apps with a view to these being aimed at both corporate and consumers. There is a system to manage this which can switch apps on and off – with hierarchy and permissions – and which can manage devices so that only the right people can use the right apps and data. If they cease to be important, both the apps and access can be terminated. This links to a storefront which sells both apps and third-party content.
As you would expect there are some solid analytics. Unfortunately this may ultimately show the firm that most corporate internal apps are as little-read as the website or newsletter ever were. ®
Sponsored: Ransomware has gone nuclear