This article is more than 1 year old
Apple snags blockbuster multi-touch patent
Line up for licensing, world+dog?
Apple was granted two dozen patents in the US Patent and Trademark Office's weekly patent-palooza, held each Tuesday, providing Cupertino's legal team with a new cache of ammunition to be fired up in future patent wars.
Snuggled in amongst Tuesday's hoard is a patent entitled "Multipoint touchscreen" that could potentially be big trouble for manufacturers of other multi-touch devices – such as, oh, practically every other smartphone and tablet on the market.
The abstract of this patent – which seems at first blush to be exceptionally broad – portends trouble for Apple's competition:
A touch panel having a transparent capacitive sensing medium configured to detect multiple touches or near touches that occur at the same time and at distinct locations in the plane of the touch panel and to produce distinct signals representative of the location of the touches on the plane of the touch panel for each of the multiple touches is disclosed.
Now, your Reg reporter doesn't claim to be a patent lawyer ("Thank you, Jesus!"), but to our untrained eyes that reads mighty like a description of every multi-touch touchscreen in existence today.
One image accompanying the 34-page patent also may engender apprehension in the Android et al. community, illustrating as it does a generic smartphonesque, tabletish device being prodded in multi-touch fashion: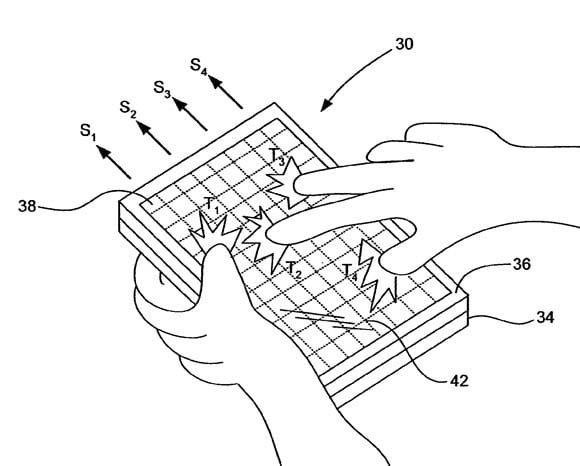 Hmmm... Might Apple now own the rights to all multi-touch display designs?
The text of the patent refers to touchscreens in general, but explains that one of the problems associated with them is that "they lack the ability to track multiple points of contact simultaneously," unlike the eponymous multipoint touchscreen described by the patent.
Apple's patent attorneys evidently spent a good deal of effort putting together this possibly blockbuster document, seeing as how it includes references to 365 US and 74 foreign patents dating back to a 1956 patent granted to one George M. Kirkpatrick for an "Extended Range Frame Comparator", as well as an additional 202 references classified simply as "Other".
Four other multi-touch patents were also granted to Apple on Tuesday. One, entitled "Multi-touch auto scanning", describes a method of powering down a device's processor and clock, and using separate low-power circuitry to periodically check to see if a touch is being applied to the display.
Two others, "Full scale calibration measurement for multi-touch surfaces" and its nearly identical twin of the same name describe a method of ensuring that touch-induced signal strength is normalized across a display when vagaries of manufacturing and "physical design differences" cause signal strength to vary.
The last multi-touch patent granted on Tuesday doesn't describe touch displays, nor even multi-touch control per se – but it is related. "3-dimensional curved substrate lamination" outlines the method used to manufacture curved-surface pointing devices such as Apple's multi-touch Magic Mouse.
In addition to these five multi-touch patents, Apple was also granted a half-dozen user-interface patents that might pose challenges to Apple's competition. Rather than digging down into each one, we'll merely list them and let you dive in yourself, should something strike your fancy:
Most certainly, some of these user-interface patents will be pored over by patent-law teams at Google, Samsung, Motorola, and others, but we can't help but think that the implications of patent number 8,125,463, "Multipoint touchscreen", has the greatest potential to upset a few applecarts – or, as Cupertino might prefer to call them, Apple patent infringers. ®