MWC 2012 The quest for attention has ratcheted up a notch at this year's MWC, with CBOSS putting "booth babes" – the attractive staff at its MWC stall – on the table as dinner companions in the hope that someone will ask just what the company does.
One of Mobile World Congress's most famous exhibitors has decided it's going to have to pimp out its dancing girls if anyone is going to take an interest in what it does, so is offering a romantic dinner to anyone who can talk intelligently about the business CBOSS is in, which is much tougher than it sounds.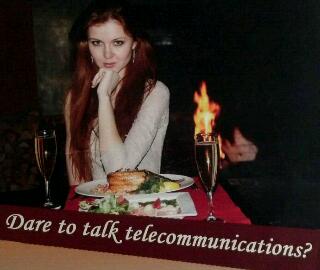 But would it be worth it if you had to talk operator billing all night?
Mobile World Congress isn't generally awash with booth babes, it still likes to be taken seriously and most attendees are suited and booted in their best. It may be that the more attractive representatives are selected to hand out flyers, but they'll likely be in fancy dress rather than baring the flesh (this year we've had bumble bees, an Android and something from Alcatel Lucent which defies description). The notable exception to this is CBOSS, which always boasts a huge stand adorned with dancing girls who perform hourly, much to the amusement of the crowd who remain entirely ignorant of what CBOSS does.
In fact that ignorance is almost universal, no doubt prompting the offer of dinner dates. But in protest at such blatant sexism we're working hard to remain ignorant, and recommend that none of our readers visit the CBOSS site or read its Wikipedia entry. Should you find out about the company, and be able to say something intelligent to one of the girls on the stand then you could be in for the aforementioned dinner where, as CBOSS puts it:
We have no doubt that the champagne, caviar and a beautiful girl conducting a vis-a-vis interview, are sure to raise the most correct wording of your thoughts from the depths of the subconscious and allow them to pour out in a leisurely conversation.
®
Similar topics