Tory minister: Let's exploit our rich resource of mud, er, wind
Energy MP's hot air is no good for economy nor environment
---
Britain would be "mad" not to make strategic use of its rich natural resource of mud, a government minister has said.
"We can't afford not to exploit this," said Charles Hendry (Con, High Peak) who proposed that public infrastructure should exploit the naturally abundant material, and rediscover techniques that use it, such as wattle and daub for building walls.
Actually, he didn't...
But Hendry, who is the UK's energy minister, instead wrote this on the Department of Energy and Climate Change blog this week:
It would be madness not to harness the wind to create clean energy and jobs.

As an island nation, the UK is lucky to have some of the best wind resource in Europe – it would be madness for us not to use this natural, secure, sustainable and free resource!
The logic, in each case, is the same: the UK must use something because it is there. You can argue this equally applies to coal - which the UK can exploit for several hundred years using current technology. Indeed, calls to revive coal extraction were renewed last year.
There is no mention of costs. Wind turbines remain a uniquely inefficient, and therefore expensive, power generation technology. And that's before the true cost is included - which includes hooking up these remote bird-blenders to the national grid. (See Wind power: even worse than you thought and Stand by for more big, windfarm-driven 'leccy price rises for the numbers.)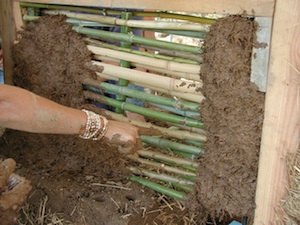 Wattle and daub: Why Not?
And green jobs? Well, on balance they increase unemployment. Professor Gabriel Calzada Álvarez, at the University of Madrid, estimated that each green job had cost the country $774,000, in effect destroying 2.2 "real" jobs.
Writing in The Guardian last year, Simon Jenkins pointed out that the 550 corporate members of wind-power lobby group RenewableUK received £1bn in handouts in 2010. The renewable energy is prolonging Britain's economic doldrums.
Other than a wealth redistribution scheme from the poor to the rich - what exactly is the point? ®