MWC 2012 Telephony standards supremos at the GSMA love the phrase "connecting the unconnected" – the notion of getting data and voice links out to the masses.
Google skipper Eric Schmidt has similar sentiments, but he's got only one thing on his mind: data. The executive chairman isn't fussy about who will bear this information, although he loves fibre and wants the whole world hooked up with 1GBit/s lines - just like the ones his engineers are installing in Kansas City, Kansas. He likened those who, for now, have the fastest connections as the privileged few.
Schmidt reckons with 1GBit/s peak net speeds, and 300MBit/s sustained, to your door, a Star Trek Holodeck-like experience is not far away. He also preached a future of robot cars that are safer at getting us from A to B, claiming that 90 per cent of the 370,000 people who died on American roads in the last eight years were killed by human error.
While many people at MWC 2012 see mobile broadband as a replacement for fixed infrastructure, Schmidt reckons it'll be ideal for where it's too expensive to put in a cabled system. He thinks fixed-line networks will grow dramatically, but that it is not sufficient to meet both demand and the social need for connectivity.
His goal of putting an Android gadget "in every pocket" won't require mobile operators. Instead, a mesh network, formed ad hoc by phones, might be just as powerful. What also matters is censorship: "We need to act now to avoid the rise of the new digital caste system, 20 countries block Google products so we need to act now to create a global company of equals."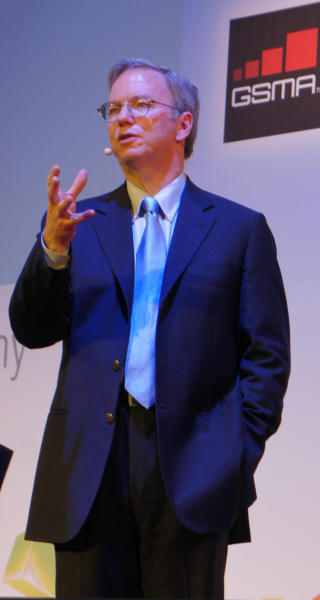 Eric Schmidt at MWC 2012
As ever with these presentations it's the question-and-answer sessions which are most interesting - and it's a great shame that the other CEOs didn't follow Schmidt's example of giving 30 minutes of his time to the audience. Your humble scribe asked how Google would handle Chinese manufacturers violating Motorola Mobility's IP now that Google more or less owns it; Motorola was never brave enough to take on China's finest in the Asian nation's courts. Schmidt said he was aware of the issue, said he was not scared of asserting rights in China, but added that the merger was still in progress and no decision had been made.
One questioner offered his peer-to-peer currency as a technology for Google, but Schmidt said such things - such as Bitcoin - exist and most solutions are illegal. Trying to create an untraceable electronic currency was too difficult from a regulatory perspective, he said, and it's something the company had looked at under the name of Google Dollars, but had decided against progressing with.
Someone picked up on Schmidt's notion of "the internet as a human right", and asked if that meant it should be controlled by the ITU. The Google chairman's response was robust and reasoned: the system that oversees the internet isn't particularly broken, he said, and changing the administration risked Balkanising the web – such a move should be considered exceptionally carefully, he added.
It's impressive when a CEO of a huge company is asked a specific regional questions and gives a direct and full answer. A Nigerian bloke wanted to know what Google was doing in his country and Schmidt explained that the cost of bandwidth was crippling there thanks to expensive microwave links and a fibre line from Portugal. Google was working to bring this down with lots of local caching and funding for last-ten-mile links, but he was confident that local innovation would be a fundamental part of the solution.
Schmidt had sympathy for mobile operators, commenting that they had to deal with tight regulation and pressure to squeeze tariffs while borrowing money to upgrade equipment to 4G standards as customers consume huge amounts of bandwidth.
And Google isn't free of regulatory pressure. One Iranian chap asked how after all the talk about "connecting the unconnected" how could he, in his home country, not have access to the Android Marketplace or Chrome, both of which were blocked not by the Iranian Government but by Google. After a quick check with his lawyer, Schmidt replied that it was down to US export regulations – and he didn't want to go to prison because the bandwidth in the slammer is rubbish. ®
Sponsored: Webcast: Simplify data protection on AWS