Microsoft's Applied Sciences Group has combined a transparent OLED display with an Xbox Kinect sensor and a smidgeon of software sorcery to create a space where users can manipulate on-screen objects at different depths within the screen.
The team dubbed the process "view-dependant depth-correction gaze", and demoed it at Microsoft's TechForum this week.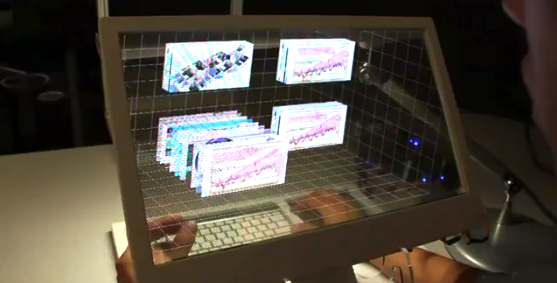 Graphics appear on the display in virtual 3D, while a user's hands manipulate them from behind the transparent display. The Kinect sensor tracks eye movements so that the on-screen objects correctly align themselves with the user's perspective.
Microsoft has been hard at work on the Holodeck concept for a while now, after it demoed a similar piece of tech in 2011.
Have a ganders at the video below to see the system in action:
Samsung touted see-through displays earlier this year, where the tech was mooted for transparent fridges with touch-to-restock features. ®