This article is more than 1 year old
Microsoft drops 'risky' Windows 8 preview on World
Metro-lovers to rub themselves into 'fast, fluid' frenzy?
Microsoft has released to the World near-final code for Windows 8 - its riskiest bet yet.
Officially called a Consumer Preview, but actually a beta, the next Windows 8 milestone will be the release candidate followed by release to manufacturing, Windows Division president Steven Sinofsky said Wednesday.
Microsoft chose the Android-dominated and telco, device and service-provider centric Mobile World Congress in Barcelona, Spain, to officially launch the Windows 8 beta preview.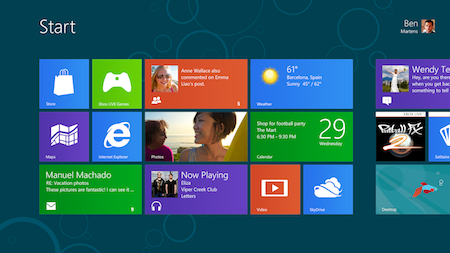 The Windows 8 Metro screen thinks inside the boxes
So what is new since the Developer Preview handed out at the BUILD conference last September? More than 100,000 code changes, apparently, as well as a bunch of apps that have not been made public before.
Windows 8 has a dual personality, with the old Windows desktop alongside a touch-friendly "Metro" user interface, powered by the new Windows Runtime.
A common complaint about the developer preview was that usability of the Metro side was fine with touch, but poor with keyboard and mouse. All fixed now, according to Microsoft vice president Antoine Leblond. "We paid just as much attention to using Windows 8 with a mouse and keyboard as with touch," he told the press at MWC.
Windows 8 uses the four corners of the screen as hot areas, on the grounds that it is easy to move the mouse there, so bottom left becomes the Start button - although the button itself is missing - top left a kind of alt-tab for switching between running apps, and so on.
Windows 8 will support both traditional Intel x86 systems, and a new breed of mobile devices built on a System on a Chip (SoC). Four SoCs will be supported at launch, NVIDIA's Tegra 3, Intel's Clover Trail, and two others from Qualcomm and Texas Instruments.
Although billed as the Consumer Preview, Microsoft talked a bit about enterprise features, such as Windows to Go which lets you boot and run Windows 8 from a USB pen drive, isolating it from the main operating system on a PC to ensure separation of business and personal data. Windows 8 Enterprise will be presented in more detail at the March CeBIT event in Hanover, Germany.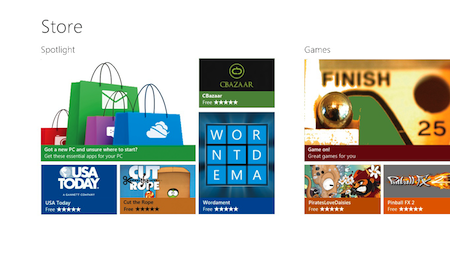 Feed me: thousands of apps available for Windows 8 in Microsoft's market
The Consumer Preview includes apps that were missing in the Developer Preview, such as the Windows Store, where all apps will be free during the preview period. There are also apps for Mail, Calendar, People, SkyDrive, photos, and PDF.
Microsoft repeatedly used the term "fast and fluid" to describe Windows 8, and the demos looked good although they were generally on high-end hardware. The focus was firmly on the Metro side of Windows, highlighting the fact that not that much has changed when it comes to desktop Windows, though a pretty new copy dialog with graphical progress display was demonstrated.
That said, there are many underlying improvements which apply equally to Metro and Desktop personalities, such as fast boot – "about 8 seconds on an ultrabook" press was told – and the new Connected Standby mode which uses little power but does process background tasks such as updating email.
The company expects to see new form factors for Windows 8 devices, and on display was a "Yoga" PC that wraps round like folding paper to transform from tablet to laptop, and a large display that can be used vertically or horizontally, to become like a Surface PC touch-controlled table.
The preview looks good, but remains a risky proposition for Microsoft since the Metro side is completely new, and its usefulness depends on how quickly the company can attract developers to support this unfamiliar platform.
Windows 8 Consumer Preview includes Internet Explorer 10 Preview 5, and language support for English, German, French, Japanese and Simplified Chinese. ®