The immune system response in which antibodies bind to specific molecules they recognize has been exploited to create a self-assembling protein-based transistor.
The Taiwanese researchers claiming the breakthrough say it could help overcome a difficult hurdle in the world of organic electronics: providing a repeatable way to "connect" organic molecules to electrical signals, without degrading the molecules.
The work, by Yu-Shiun Chen, Meng-Ye Hong and G. Steven Huang of the National Chiao Tung University, covers the three top-line items that constitute a transistor: it's got a source and drain, with usable and convenient connections, and it can be gated using an applied voltage.
Organic molecular electronics is a popular research field, both for those trying to continue extending the lifetime of Moore's Law and for research into flexible circuits. However, while organic molecules can be made to behave like electronic gates, it's difficult to create repeatable connections to them without damaging the molecule.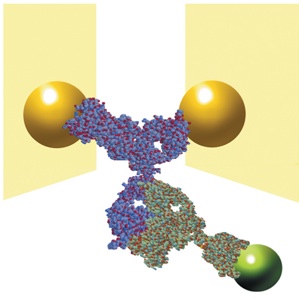 The antibodies bind to gold nanoparticles to
create the protein-based transistor. Source: Nature
The self-assembly technique provides an approach that could solve this problem, the researchers say. They have isolated an immunoglobulin G antibody, whose particular characteristic is that it recognizes 5 nanometer-diameter gold nanoparticles.
As I understand it, the antibody then does what antibodies do: it binds to the target molecule (rather like a human anibody might bind to a rhinovirus to try and fight off a head cold). By binding to two gold nanoparticles, this "anti-nanoparticle" forms a junction that can be connected to the outside world.
When a voltage is applied to the device, the researchers say, it behaves like a transistor gate. Not only that: the researchers also say that "by attaching CdSe quantum dots to the antibody, we show that the protein transistor can also be gated by an applied optical field."
The research is published in Nature (abstract). ®
Sponsored: Practical tips for Office 365 tenant-to-tenant migration