ISP Be Broadband has admitted demand for iPlayer jammed its punters' net connections - leaving parts of the web unusable and subscribers fuming.
For weeks customers of Be - an O2-owned company with up to 600,000 users - were unable to visit some websites, including the BBC's telly streaming service, because the ISP's link to the Akamai content distribution network was saturated. A full fix isn't due until the end of April.
"Some Be customers are continuing to experience problems when running BBC's iPlayer," Be's marketing boss Mark Nichols told The Reg.
"This is being caused by our link to the Akamai network, through which Be customers access BBC's video services, operating close to capacity during periods of heavy demand."
An anonymous reader tipped off The Reg this week that Be subscribers were struggling to watch the likes of EastEnders and Prisoners' Wives online, pointing out reports of problems by fellow users on ThinkBroadband.
Some punters - mostly outside the southeast of Blighty - have experienced packet-loss issues since the beginning of February - one described the resulting service:
Had problems with BBC iPlayer content pausing to buffer for quite a while now. At times the programme I'm viewing will stop to buffer and not recover at all, so resetting back to the beginning.
Another wrote:
This is getting silly now. For nearly a month it's taken me ages to connect to the BBC website and iPlayer. Am sitting here now Monday 10am trying to watch something on iPlayer and it won't even connect to the programme page let alone the stream!
A third Be customer described the unfortunate experience of trying to watch a short web video on the BBC:
OMG! That link didn't start playing for about 5 minutes then just when I had forgotten it started and scared the life out of me. But it only played for a few seconds before stopping and buffering again.
Many users posted results of ping tests that show network packet transfer often failing completely or showing significant losses, often as high as 75 or 50 per cent. According to forum posters, data sent from the BBC was degraded or lost as the content was routed to subscribers. Connections to other websites, such as Eurogamer, were also affected, as the graphs below show.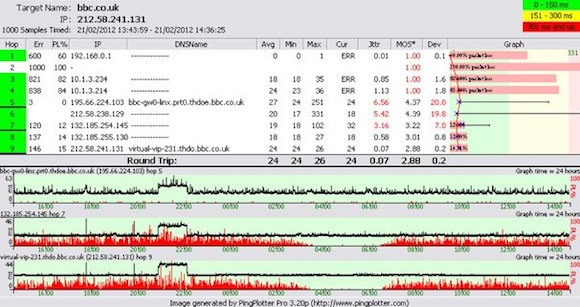 A ping tool shows packet loss - represented as the red spikes in the lower graphs and in the top-right corner - in a Be user's connection to BBC.co.uk...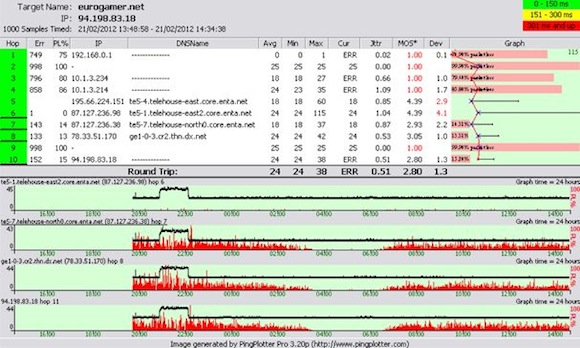 ... and similar packet loss in the Be user's connection to Eurogamer. In both cases, the loss drops off overnight – presumably when pressure on the network is relived as everyone goes to bed.
Although Be initially blamed the packet haemorrhage on the BBC's network engineers, it turns out that the true source of the problem is the link that connects Be's gear to Akamai.
Be routes BBC video through the Akamai platform in an attempt to streamline delivery of the material. Ironically these fast lanes became congested and the ISP is now throttling the service. Be needs to increase the capacity of its Akamai link, but that won't be possible until the end of next month, Nichols told The Reg. In the meantime Be has shored up its bandwidth by peering with fellow networks:
We're working with other peering platforms to route overflow traffic away from Akamai during peak usage until the upgrade is completed; from the feedback we've already received via our forum this approach has improved the performance of iPlayer for those customers who've been affected.
®
Sponsored: Webcast: Discover and secure all of your attack surface