Outdoor activities
The 3.2in capacitive touch screen, shrunk from the Defy+'s 3.7in, offers a resolution of 480 x 320 pixels, which even allowing for the reduced size, means it's considerably less sharp than the Defy+ with its 854 x 480 resolution.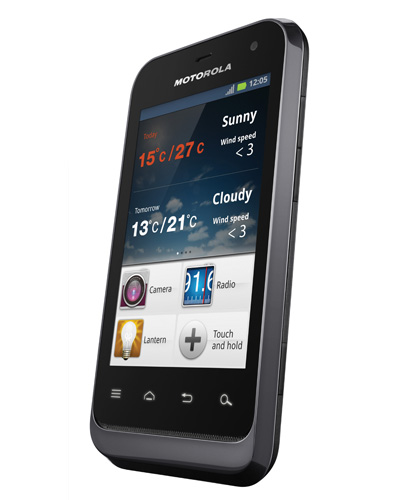 Worth splashing out for?
It's running Android 2.3.6 Gingerbread, but given Motorola's form on delivering updates in beyond the US, I wouldn't hold your breath for version 4.0 Ice Crean Sandwich even if they do end up being owned by Google. It's also running the Motoblur skin UI over the top, which isn't as pretty as HTC's Sense, for example, but offers its own take on the usual Android widget experience.
The 600MHz processor is backed by 512MB RAM and, although it's this design is said to be more efficient, in use it is a bit of a slugabed, consistently taking its time when switching between apps and rendering web pages. The HTC Explorer's performance wasn't too bad, so it would seem that Motoblur might be the inhibiting factor here.
A smaller phone doesn't have to mean a less capable camera, but with the Defy+'s 5Mp snapper being abandoned in favour of a 3Mp model, that's exactly what you get. It offers autofocus and an LED flash but picture quality feels like a distinct step down from its predecessor. There's also a VGA camera on the front for video calls.
This being a phone intended for the great outdoors, there are a few outdoorsy apps included, such as the DashBoard, which offers a programmable range of apps and readings you can access easily while you're out and about, such as your training counter, camera, compass and radio, or you could switch the display to include a map, up-to-date weather info or your music player. Incidentally, there's 120MB onboard memory for your tunes which can be expanded via microSD up to 32GB.
The 1650mAh battery is just a sliver smaller than the Defy+'s 1700mAh capacity and does an okay job, delivering a comfortable day and more of fairly heavy use.
Verdict
The Motorola Defy Mini seems a little like a solution in search of a problem. It's a bit tough, but then, not very tough. The water resistance may come in handy, but aside from that it's hard to see how it can defend itself against the elements more effectively than any other phone you've bought a decent cover for. Still, it's a cheapish budget Android with couple of interesting outdoorsy tricks up its sleeve.
More Android Phone Reviews

Motorola
Motoluxe
Prada Phone
by LG 3.0
Ten… Androids
to outshine
the iPhone 4S
Samsung
Galaxy
Nexus
Orange
San Francisco 2

Motorola Defy Mini rugged Android smartphone
Water resistant and dust proof Android smartphone.