The Advertising Standards Agency (ASA) has quashed a complaint from a fanboi disappointed by Siri's lack of UK knowledge - and said the punter had above-average expectations compared with what it would expect from the "average Brit".
Siri, the voice-recognising virtual assistant on the iPhone 4S, is unable to direct users in Blighty to businesses, nor can it provide routes and traffic updates, because it only does map-integration and biz lookups in the US.
But a disgruntled Jesus-mobe owner in Britain complained to the ASA that this omission was skirted over in an online advert for the 4S posted in October 2011. The advert read:
Simply ask Siri to help you send messages, set reminders or search for information […] It can even use information from your iPhone - such as your location, contacts and contact relationships - to provide intelligent, personal assistance.
The complainant said that the ad was misleading because it did not make it clear enough that location-based Siri functionality only worked in the United States.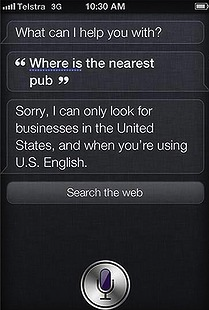 Find this "pub" yourself, mate
The ad was posted by Vodafone, but Voda referred the ASA to Apple, which had supplied the information for the advert text.
On Wednesday the ASA ruled in Apple's favour and dismissed the complaint, noting that Siri in the UK did use location to a certain extent – it was part of Siri's ability to forecast the local weather.
The ASA also noted that there was a footnote on the advert that stated "Siri may not be available in all languages or in all areas, and features may vary by area".
The ASA concluded that the complainant's expectations were too high. The belief that Siri would be able to direct users to useful local businesses was not implicit from the advert, said the ASA, and was an expectation that would not trouble the UK's "average customer", who, the agency asserted would have little knowledge of technology journalism or Apple product launches.
We considered that some consumers may have had prior knowledge of what Siri was reportedly able to do in the US and, with this knowledge, might read into the ad that Siri users in the UK would benefit from similar maps-based functionality.  However we did not consider that these consumers represented the average consumer in the UK and, because the ad in itself had not explicitly or implicitly made such claims, we concluded that the ad was not misleading.
®