This article is more than 1 year old
Asteroid could SMASH INTO EARTH in 2040
UN boffins bang heads to knock rock off-course
Top space boffins are keeping a close eye on an asteroid that could collide with Earth in 2040. Orbiting rock 2011 AG5 is about 140 metres wide and could come close enough to spur on a crack team of drill-wielding heroes to save the world.
The Scientific and Technical subcommittee of the United Nations Committee on the Peaceful Uses of Outer Space (COPUOS) heard at its annual meeting this month that the UN Action Team on near-earth objects recommended that a task force be assigned to investigate the asteroid and report back.
Don't go building your underground shelter just yet, though: the group thinks the chances of the asteroid hitting us are pretty slim.
NASA's Near-Earth Object programme office at the Jet Propulsion Laboratory in California issued a statement giving a "scientific reality check" on the likelihood of the annihilation of life on our home world.
The experts explained that because of its current location, observations of the asteroid couldn't be made by Earth-based telescopes, so boffins weren't all that confident about their ability to predict the space rock's orbit. Better sightings could be made in the future, so we should wait to panic until then.
"In September 2013 we have the opportunity to make additional observations of 2011 AG5 when it comes within 91 million miles of Earth," said Don Yeomans, manager of the office.
"It will be an opportunity to observe this space rock and further refine its orbit. Because of the extreme rarity of an impact by a near-Earth asteroid of this size, I fully expect we will be able to significantly reduce or rule out entirely any impact probability for the foreseeable future."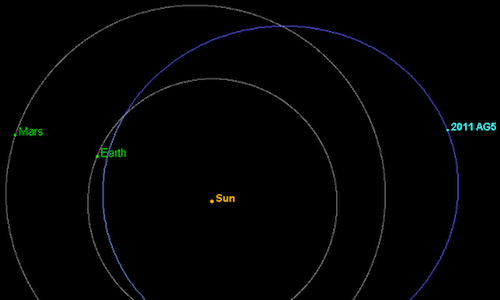 The orbit of asteroid 2011 AG5. Credit: NASA/JPL/Caltech/NEOPO
2011 AG5 will also fly by our planet again in 2023, passing no closer than a million miles away, and once more in 2028, from a distance of about ten million miles, giving scientists plenty of chances to have a better look.
How to knock an asteroid off-course
However, other Near-Earth Object (NEO) experts said that the small but significant chance of 2011 AG5 striking was enough to consider getting folks together to look at deflection tactics.
Former Apollo astronaut and NEO specialist Rusty Schweickart, representing the Association of Space Explorers, told the UN Action Team [PDF of his slides] that 2011 AG 5 "may be an impact threat for which a deflection decision plan should be developed".
To be a real danger to Earth and have a strike probability of 1 in 625, the asteroid has to fly through a particular keyhole-like area of space in September 2013. Schweickart said a decision to deflect 2011 AG 5 away from this keyhole, by changing its path using gravitational effects, should be made "very soon, if not now".
"If a keyhole deflection is ruled out as option, a direct deflection is marginally possible, at best," he said, adding that directly deflecting the asteroid would be difficult with existing launch vehicle capability.
After AG5's first flyby, governments will have to get out their wallets for some asteroid-deflecting weapon cash.
"In the low probability case in which the impact of AG5 persists beyond the 2013 apparition, should a keyhole deflection campaign be foregone, for whatever reason, the international community may be faced with the difficult decision of choosing between an expensive multi-kinetic impactor or a nuclear explosive to prevent an impact should the NEO indeed pass through the keyhole," Schweickart said. ®