Lenovo ThinkPad Tablet
The formal fondeslab
---
Review

Lenovo currently fields three Android tablets. The IdeaPad A1 and K1 are aimed at the general consumer while the third model carries the revered ThinkPad moniker and with it expectations of brick outhouse build quality, business-user friendliness and no-nonsense styling.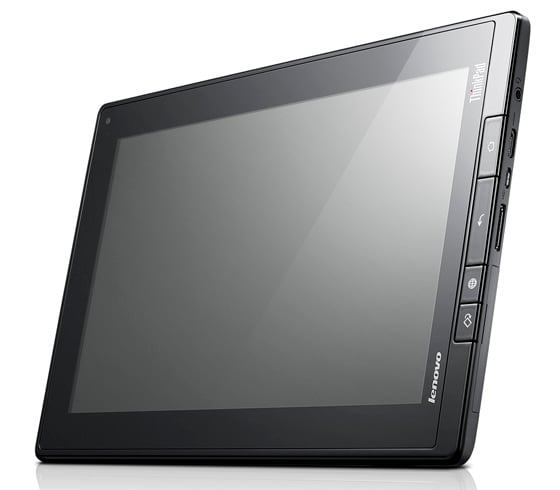 Lenovo's ThinkPad Android tablet
Make no mistake, the ThinkPad is a big, black beastie of a tablet. It weighs a hefty 750g with the upshot that it feels solid enough to beat your boss to death with while the all-black colour scheme and ThinkPad badges also help advertise its serious intent.
Take a quick tour of the ThinkPad's 14mm deep sides and you will find quite a scatter of controls and sockets including an on/off button, volume rocker, 3.5mm audio jack, mini-HDMI port, microUSB socket for charging and syncing and a docking connector for the excellent but optional £80 folio keyboard.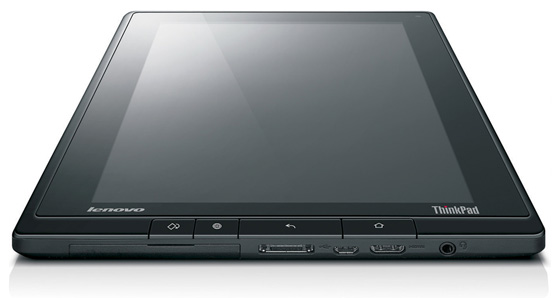 Interconnnects
Next comes a flap under which you will find slots for a 3G SIM and full-sized SD card, a sliding door which conceals a USB 2.0 socket and finally a receptacle for the the N-trig stylus.
Inside the ThinkPad is absolutely bog-Tegra 2 standard so you get 1GB of RAM, a 1GHz dual-core CPU, support for Flash and stable 720p video playback. Out of the box it runs Honeycomb 3.1 but on its website, Lenovo declares an ICS upgrade for May.

The sides have just a couple of adornments for power on and a full-size USB port
The 10.1in 1280 x 800 IPS screen is sharp and bright but the accompanying speaker lets the side down badly, as there is nowhere near enough volume available. Even in a quiet room it's difficult to follow the dialogue in films.