Buttoned up
Thankfully the bundled earbuds are very good and come with a funky ThinkPad-branded toggle bag. Even so, if you plan on using the speaker as the main audio source from your tablet I would seriously suggest you look elsewhere.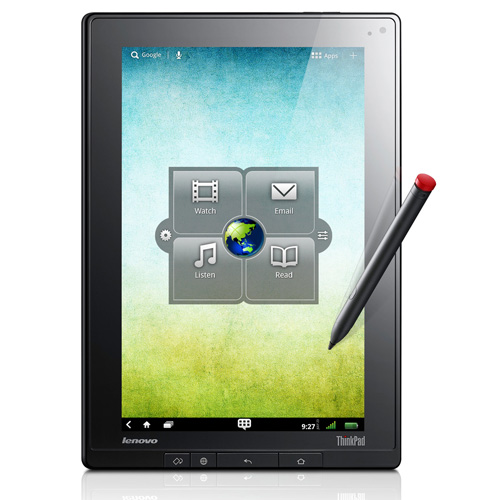 You don't have to use the stylus, but it may come in handy
Unique to the ThinkPad are the four physical buttons that reside below the screen when you hold the device in portrait which seems to be the way the maker imagines it will be held most of the time, judging by the orientation of the logos.
As well as the expected home, back and browser launch buttons the fourth locks the screen orientation. In my book this is a very good idea, though Lenovo has missed a trick by not back-lighting the keys. If they start to irritate you, the hardware keys can be disabled.

The 3.5mm audio jack supports headsets and given the speaker quality you'll probably need to use one
Also separating the ThinkPad from the herd is the red-topped N-trig digital pen. Alas, there isn't the same degree of built-in-at-ground-level pen technology as the Samsung Galaxy Note enjoys. For instance, there's no facility to take a quick screen grab and doodle on it.
The ThinkPad's pen also only supports 256 levels of pressure sensitivity compared to the 512 of the Note's Wacom pen and it requires an AAAA battery to work. For general system navigation and note taking, it works a treat but it's a bit disappointing that Lenovo's own App Shop contains not one pen-optimised application.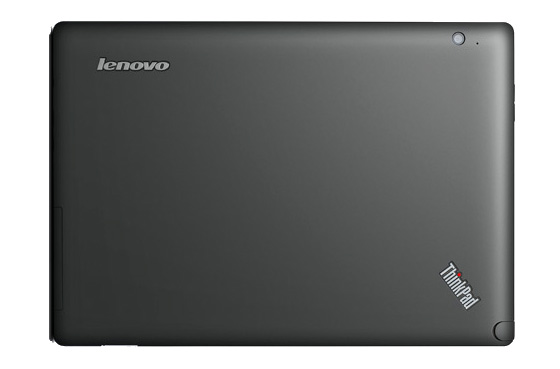 No flash on the main camera, but who takes photos with a tablet anyway?
The main 5MP camera is a flash-less and mediocre affair but the forward facing 2MP lens works well with Skype and makes for very crisp and clear video calls. Yet again, you'll need to use the earphones to hear what's being said to you.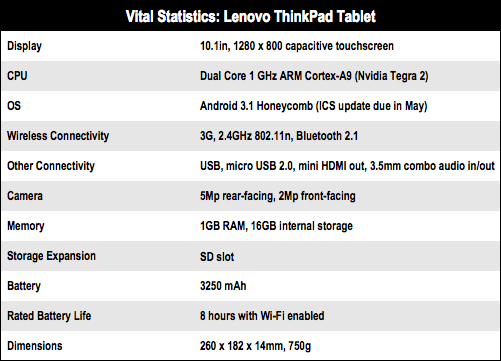 Similar topics