This article is more than 1 year old
Ubuntu 12.04 hits beta, brings smooth Unity for marching masses
But bugs still need a-snaffling for biz penguins
Review The beta for Ubuntu 12.04, or Precise Pangolin as Canonical's Mark Shuttleworth would have it, is upon us.
This is the fourth major Long Term Support (LTS) release and the first featuring the Unity desktop: LTS.
That means that while the rank-and-file Ubuntu users may have already made the leap to Unity, many of Canonical's actual customers have likely been waiting for the LTS release before dipping a toe in the Unity waters.
LTS editions of Ubuntu are delivered every two years and have extended support from Canonical. They also set the look of the coming years' releases.
As with previous LTS releases, the emphasis in Ubuntu 12.04 is not on new features or must-have upgrades, but on stability, polish and support for those who deploy Ubuntu on a larger scale.
Indeed there is almost nothing in the way of new features in the current beta. Instead you'll find a number of small tweaks designed to polish up Unity and get it ready for the real world of an LTS release.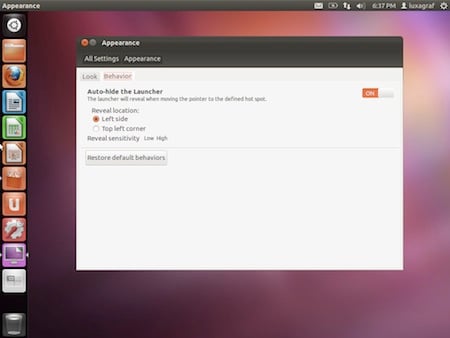 Ubuntu 12.04 lets you hide the Launcher revealing it only to your mouse
This time around though, it isn't just the primary Ubuntu LTS release that's being polished; Canonical has also introduced a new Ubuntu "remix" dubbed Ubuntu Business Desktop Remix.
Business Remix is aimed squarely at the corporate market and strips out features like the Rhythmbox music player and the various games included in a standard Ubuntu package. Instead, Business Remix users will get VMWare View – meaning there's an EULA – OpenJDK 6 and other business workflow software.
In a measure of how seriously it's taking business users, Canonical has also extended the length of support for the 12.04 desktop LTS from three to five years – the same as the Ubuntu on the server.
Naturally the Business Remix isn't for the everyday Ubuntu user. In announcing the new remix, Canonical founder Mark Shuttleworth was careful to say Ubuntu isn't creating its own version of the RHEL/Fedora arrangement. Instead, he emphasised that the Business Remix was just another example of Canonical doing more for its customers.
While most Ubuntu users have likely either made their peace with Unity or else moved on to another distro or desktop, Ubuntu 12.04 may well be the first-time corporate users encounter Unity. That's why a considerable portion of the effort behind this release has gone into mundane but important tasks such as fixing bugs and polishing the look and feel of Unity, rather than pushing the boundaries of the user interface or even adding new features to the desktop. In other words, don't look for the controversial HUD – which will one day replace traditional application menus in Unity – to turn up in Precise Pangolin.
What Unity does offer in this release is a slightly more polished, and in a few cases, more flexible interface. A new set of fonts are coming with a variety of weights that give Unity a more, well, unified, look. Also welcome is the new option to hide the Launcher, revealing it only when your mouse rolls over the specified area of the screen. The second alpha release of 12.04 also featured a slider in the Appearance panel to easily resize the Launcher icons, but this had been removed as of the nightly build we tested on the eve of the beta release.
The Ubuntu Software Center has also been tweaked slightly with some small, but nice new features like an opt-in "Recommendations" feature for custom tailored app suggestions (based on what you download after you turn it on). The Software Center also offers multiple screenshots for applications, though as of the beta not many software packages actually have more than one screenshot.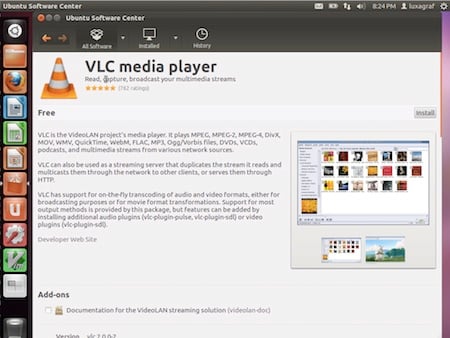 Recommendations and screen shots come to the Software Center
While the improvements and polish in Unity are noticeable, rough edges remain. For example the application and document search features remain very primitive and buggy in this beta. I installed GVim through the Software Center, fired up Unity's search tool and typed in "Vim." Nothing. I switched to the application "lens" and tried again, but still GVim was nowhere to be found in the search results.
Clicking on "show more" next to the Installed Apps category finally revealed GVim buried amidst three dozen other "search results". Thinking perhaps there was some bug that was causing Unity's search feature to not automatically refresh when new software was installed, I restarted the VM and tried again. Still no dice. Now, you could argue that searching for "Vim" instead of "GVim" was the problem, but in this day and age a search tool that can't figure out you mean GVim when you type "Vim" should not really claim to be a search tool.
This is a beta release, so I won't hold the bugginess of the notification messages or the overall sluggishness of the interface against it, but the search feature has been dim-witted since it debuted and if Canonical expects people to rely on the search tool – especially if it has expanded to search for application menu items – it's time to put some serious effort into improving the results and so far in 12.04 that hasn't happened.
Like the 11.10 beta before it, this beta is very much a beta release. The emphasis on polishing up Unity is slowly yielding results, but there are still plenty of bugs and you would be wise to restrict your use to a virtual machine or non-vital drive. ®