This article is more than 1 year old
Windows 8: Sugar coating on Microsoft's hard-to-swallow tablet
Refreshing, delightful, puzzling, awkward, annoying
Preview review How do you bring legacy-encrusted Windows into the mobile era? Microsoft's solution is to take all that baggage and place it into a compartment labeled desktop, while reinventing the Windows user interface in a second compartment called Metro.
Metro is primary, and conceptually the old desktop is now an app in the Metro Start menu. You can think of Metro as loosely equivalent to Apple's iOS, whereas desktop is like OS X. A key difference is that in Windows 8 they are side by side.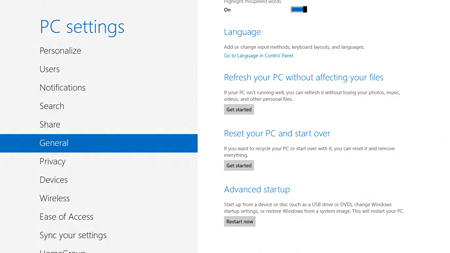 Metro comes to the familiar settings and a "repair your PC" option
The snag with this plan is that there are no Metro apps, aside from what comes bundled with Windows plus whatever Microsoft can persuade third parties to come up with in time for the launch later this year. A second issue is that touch screens are not the norm in the Windows world - hardly surprising given that the user interface of Windows 7 and earlier works so badly with fingertips - so most users will need new hardware in order to get Windows 8 running as designed.
I have been using Windows 8 Consumer Preview on a Samsung Series 7 slate since the launch of the beta on 29 February at Mobile World Congress in Barcelona, Spain. The story overall is that on this third attempt (counting the Tablet PC as the first and the ill-fated Origami as the second) Microsoft has made an excellent tablet operating system.

Explorer has a ribbon UI: it works, but no real change over Windows 7
The problem area is the combination and interaction between the old desktop and the new Metro-style platform. It is a complication, since most desktop apps still do not work well with touch alone - though we have yet to see how Microsoft will modify Office to work better in that respect - and if most Windows 8 machines end up saddled with add-on or built-in physical keyboard and pointing device, then they will not compete successfully with Apple's iPad or Android tablets on convenience or price.
Life with Windows 8 begins with the Start screen: it's summoned by pressing the Windows key, or by swiping in from the left to raise the Charms menu that includes a Start button, or by moving the mouse to the bottom left corner and clicking the Start rectangle which appears there. Confusingly, not all apps appear in the chunky Start screen by default. You need to swipe up and tap "All apps" for the full set, or else start typing if you have a keyboard. The desktop is an app, as I've already mentioned, or you can launch desktop apps individually. Even desktop users have to use the Metro Start menu, a curious design decision that may be explained by a desire to ensure that nobody can ignore Metro completely.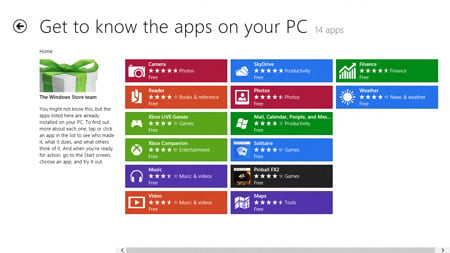 The Windows Store shows the apps you've installed
On the Metro side the Consumer Preview comes with key apps that were not present in the Developer Preview from September.
Store is the normal route to find and install Metro apps, though enterprises will be able to bypass it. The store is nicely done, with the usual search and ratings. Everything is free during the preview, and new apps will appear there as developers upload them.
Map is based on Microsoft's Bing Maps service and looks great in full-screen view. There are road or aerial views, directions, and traffic display.
Mail and Calendar can handle multiple accounts, currently supporting Windows Live, Google and Exchange. There is also a People app, borrowed from Windows Phone, that aggregates information from Facebook, Google, LinkedIn, Hotmail and Exchange. There is more to it than that though, since when I logged in using the same Microsoft Live ID as on a Windows Phone, it also picked up Twitter messages from the account I had set up there. In other words, the Live ID aggregates incoming data from various sources.