Ten... gaming mice
The big cheese
Product round-up The three qualities I look for in a gaming mouse are: comfort, aesthetics and accuracy. And considering the imminent financial meltdown of the entire world, I'd like to think that I can get these three qualities for less than a week's shopping at Sainsbury's.
Compared to last year prices, what's on offer seems to be slightly more realistic but splashing out on the wrong mouse could be a costly mistake and I'm not just talking carpal tunnel problems. This being a round-up I've tried to stick to any improvements from previous models reviewed and to pinpoint unique qualities and relative advantages. For testing these products were used in game with 

World of Warcraft, Left 4 Dead 2 and the current demo of the hotly anticipated 
Mass Effect 3.
Corsair Vengeance M60 laser gaming mouse

Corsair is usually all about chips – RAM and SSDs – and so I was surprised to discover it has also has a range of peripherals. Marketed for FPS – as opposed to the M90 which is for MMOs – the M60 has a dedicated sniper button with its own dedicated DPI adjustments. This was a good idea in theory but hard to get used to in game. Not the most comfortable mouse out there either because of the side button placement.
It took me a few hours to get used to but once it had settled in there was no lag or skipping even at 5700 DPI and it was consistent on my cloth and plastic surfaces and extremely accurate. Unfortunately, the set-up software is particularly grey and unattractive compared to some of the eye candy offered by other manufacturers. Still, the M60 and M90 are Corsair's first foray into gaming mice and they are definitely on the right track.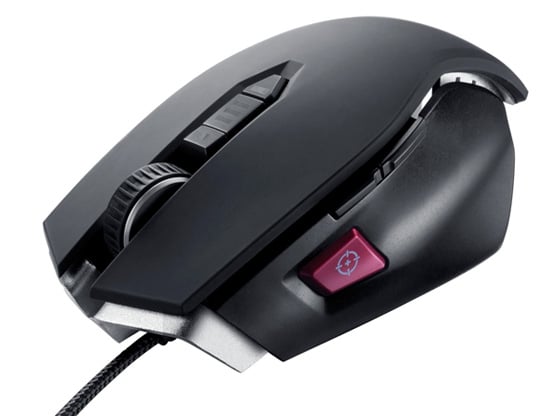 Reg Rating 75%
Price £60
More info Corsair
Corsair Vengeance M90 laser gaming mouse

With looks like Sauron's chest plate, this unusual combination of metal and plastic left me impressed by its sturdy build quality, especially the heavy duty metal scroll wheel. With an impressive 15 buttons – nine for macros – and a 5700 DPI sensor, with a few tweeks this could be a great MMO mouse. However, I found the thumbs buttons needed getting used to and were quite hard to differentiate between in the heat of a raid.
Still, the new beta 2.12 software released in January for the M90 seems to have cleared some outstanding issues. I think as Corsair's range develops, it will give the Razer Naga Hex a run for its money, as my MMO mouse of choice. And really, Corsair needs to break out the airbrush to give this mouse some real character, I can think of the perfect logo and it watches over Mordor.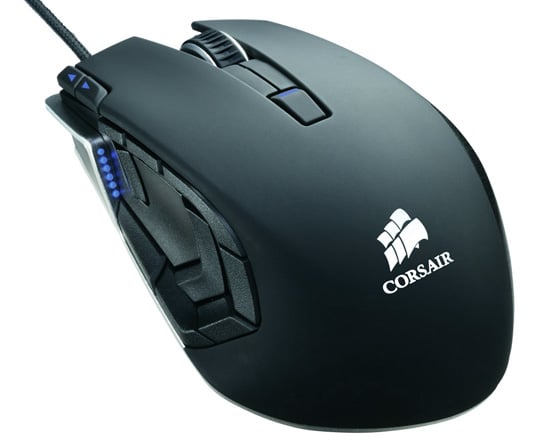 Reg Rating 80%
Price £60
More info Corsair