This article is more than 1 year old
Bloomin' big: algae seen from space
More sat happy snaps
An algal bloom has emerged near Antarctica, so large that it's not just visible but prominent in satellite images.
The bloom, roughly 200 x 100 kilometers, has shown up in images taken by NASA's Modis instrument on the Terra satellite. It has emerged off the coast of Mac Robertson Land and was identified by scientists from the Australian Antarctic Division.
The bloom is expected to spark a local feeding frenzy for everything from krill and other zooplankton, through to fish, penguins, seals, and ultimately whales, according to research scientist Mark Curran.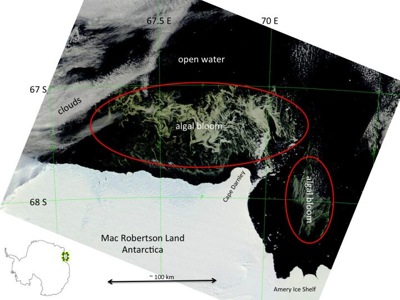 Antarctica's enormous algal blooms, as snapped by NASA's Terra satellite.
While not certain about the cause of the bloom, Curran notes that small traces of iron in Antarctic snow blown out to sea could partly be driving the event, since iron is a nutrient to algae.
The bloom has been observed for 20 days, and researchers hope it will last long enough to be observed by the research vessel Aurora Australis, which is currently voyaging between Mawson Station and Hobart, Tasmania. ®
Bootnote: I would have loved to look at the original NASA pics, but for some reason my GIS skills have deserted me, and I can't get the Modis Web Mapping Service to work like it used to. Any commenters know how to get Modis images into QGis? - RC. ®