No 10 is developing a custom-made iPad app for the Prime Minister that will help him fire ministers, according to a Tory insider.
The app will provide David Cameron with a "management dashboard" of real-time data, but according to court journalist Matthew d'Ancona, the goal is to terminate under-performing ministers "objectively", using "data". The app isn't news, but the thinking behind it is.
Writes d'Ancona:
The app is only the first manifestation of a No 10 plan to judge the success or failure of ministers with reference to performance-related data rather than the usual subjective criteria.
How does this work, then?
He explains:
The explicit model is the 'sabermetric' system of analysis, made famous by the book and movie, Moneyball, in which baseball players were selected by the Oakland A's with reference to hard empirical data rather than the scouts' visceral judgment. Imagine the PM pulling out a ream of bar-charts and computer printouts at a not-too-distant reshuffle, hiring and firing on the basis of stats and figures, rather than headlines and alliances. Ministers, you have been warned.
At which point, one imagines, the minister will be dropped into a tank filled with sharks with frickin' laser beams attached to their frickin' heads. Or just sharks.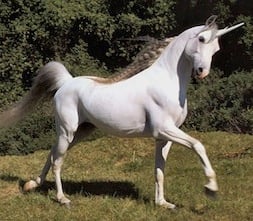 Soon, supremely objective unicorns will fire ministers
The app is the brainchild of Cameron's special advisor Rohan Silva, the driving force behind TechCity, and the strategy of promoting Shoreditch's posh loafers and nontrepreneurs as the "future of British business". Good luck selling that idea that in Tory marginals in the North, Rohan. A glance at the characters promoted by Silva – such as the Trampery's Charles Armstrong – gives Labour a gift that will keep on giving.
What of the app, then? Experienced tech-aware readers will spot the flaw in the concept. Computers aren't intelligent, they merely embody the prejudices and agendas of the humans who write the code. There is no such thing as "an objective set of criteria", since the criteria will be set by whoever is advising the coders. It may be decided that a minister who has failed to tweet in sufficient volumes is not sufficiently "engaged", and so deserves despatching to the shark tank.
But such are the cybernetic daydreams of our political and media classes. If you can delude yourself that the marketing websites of Shoreditch will bring real growth to UK plc, you can imagine fondleslabs are "objective". You can imagine anything, really. ®