This article is more than 1 year old
Android Market morphs into 'Google Play'
One-stop entertainment shop (yeah, apps too)
Google's Android Market is dead – long live the Google Play online store.
On Tuesday, Google rolled out new branding for its Android Market, focusing on the entertainment content that users can load onto their Android devices and PCs – music, books, and movies – and relegating mobile apps to less-prominent status.
Apps will still be available from Google Play, but they're fourth on the list in the new browser-based interface, which unifies Google's ebookstore and recently launched music service into a one-stop online shopping site for Androidian and PC-centric wares.
Not coincidentally, to access Google Play's music content you'll need to click through an "Additional Terms of Service" agreement, a modification added along with Tuesday's launch, coming just days after Google's new privacy policies went into effect at the first of this month. There's also an updated "Google Play Terms of Service" to contend with.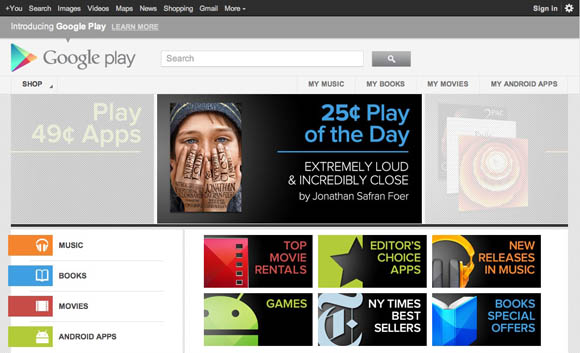 'Oh my god, they've killed the Android Market!' (click to enlarge)
Google Play's emphasis on, well, play, appears to be an effort by Mountain View to expand awareness of its four-way music, movies, books, and Android apps offerings in the hope that you may come to the site for an app, but leave with other forms of content, as well.
According to the Associated Press, there are 300 million Android devices in use around the world, with six million more being activated each week – a hefty base of potential Google Play customers.
The AP also says that Google claims 13 billion apps have been downloaded from the Android Market. Not too shabby, but far fewer than the 25-billion milestone that Apple announced this Monday for its app store – or, as Apple identifies it, its "revolutionary App Store™", with that "™" most certainly being in support of Cupertino's legal efforts to stop others from using the term.
From where we sit, Google's focus on entertainment in the rebranding of its Android Market raises suspicions that Mountain View is conceding that productivity apps aren't the strongest selling point for Android devices, even though the Android Market Google Play contains 450,000 apps, not that far behind Apple's 550,000.
Google did not immediately respond to our request for comment on that theory. ®