Diane Bryant, Intel's former CIO and now general manager of the chip giant's Data Center and Connected Systems Group, has gone from installing Xeon servers to run the company, to hawking them to all of the other companies on the planet. And, of course, making sure that Intel engineers cook up the next-generation Xeons so customers will come back for more on Chipzilla's tick-tock schedule, just like clockwork.
The sales pitch at the launch event for the new Xeon E5-2600 server chips in San Francisco on Tuesday was not much different from the "Cloud 2015" pitch that Intel's top brass talked about when the Open Data Center Alliance was launched in October 2010.
That story was further refined this time last year when Intel's top chippers in the Data Center Group (which now includes Ethernet and InfiniBand networking, and hence the addition of Connected Systems to the name) more fully outlined Intel's cloud strategy.
The new Xeon E5-2600 processor, designed for two-socket servers and already covered in detail by El Reg, are "the heart of the data center," said Bryant, having been designed expressly for the increasing capacity and bandwidth needs of data center workloads.
There will be 3.2 billion users on the internet by the end of 2015, she said, over 1 billion more than we had in 2010. More than 15 billion devices will be connected to the internet at that time, and over 1 zettabyte of traffic will be flowing over it. All of those end users and their apps will drive enormous needs for server, storage, and networking capacity – and Intel, of course, is positioning the Xeon to be at the heart of it all.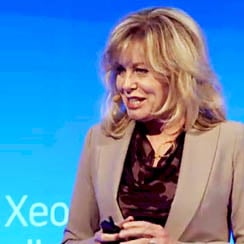 Diane Bryant, GM of Intel's Data Center
and Connected Systems Group
Bryant bragged that the Xeon E5-2600 chips have more than twice as many design wins – unique machines that an OEM creates using the processor and its related "Patsburg" C600 chipset – as the last time Intel did a "tock" with the "Nehalem-EP" Xeon 5500s three years ago.
Of those 400-plus design wins, an undisclosed number are actually for storage products, and over 100 are for various kinds of communications infrastructure aimed at telcos and service providers and not traditional servers at all. And for these telco and SP uses, Intel provides extended life warranties – meaning that replacement parts are available for longer periods of time than for standard servers and are rated to run at higher temperatures, too.
While Bryant did not spend much time on the "feeds and speeds" of the Xeon E5 processors or the "slots and watts" of the related "Romley" server platforms that use them, she did call out some particular technologies and early adopter end user customers to illustrate how they were being deployed in the real world.
"Obviously, one of the core requirements is pure performance," Bryant said about any new processor that Intel delivers, adding that Intel has increased its processor performance by more than a factor of 100X since 2000. The big change with the Xeon E5 is raw CPU performance, which can be as high as 80 per cent better over the prior Xeon 5600s for certain applications – example that was for floating point math, which Bryant did not mention.
To illustrate the use of the Xeon E5-2600 – also known by the code names "Sandy Bridge-EP" and "Jaketown" – Bryant introduced Mario Müller, vice president of IT infrastructure at the BMW Group, the manufacturer of cars and motorcycles, who said that 99.9X per cent of the company's IT infrastructure was running on x86 iron of one sort or another: 95,000 notebooks and desktops for employees, plus another 4,500 engineering workstations, and an unspecified number of servers used in clusters for product design, simulation, and crash testing.
BMW also has a cloud that connects to its vehicles to provide navigation, real-time traffic, communication links, and other services to vehicle operators. The company now collects 600MB of data per day from 1 million vehicles attached to the cloud that make around 1 million requests per day.
Looking ahead through 2013, BMW expects to need to process more than 1TB per day as 10 million vehicles connect to its cloud, and to process 100 million requests per day.
The implication, of course, is that Xeon E5 servers would be carrying this load.
Derek Chan, head of digital operations at DreamWorks Animation, explained that the digital filmmaker was an early adopter of Xeon E5-2600 servers in its render farm.
To make a computer-animated film requires hundreds of terabytes of data and hundreds of illustrators (each with a high-powered workstation) and thousands of servers, Chan explained.
The company is in the middle of working on Madagascar 3, Europe's Most Wanted, due in theaters this summer, and this film will take more than 60 million CPU-hours to render. DreamWorks will run its rendering code on 15,000 cores each night, some of them in its own data centers and some farmed out to the cloud to cope with peaks.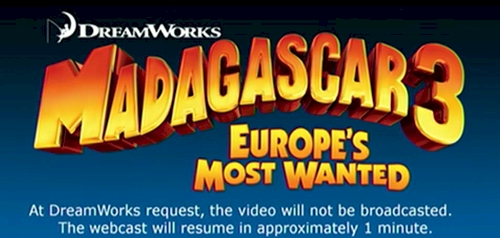 Sorry, no sneak peek for webcast viewers
Chan said that compared to servers using the Xeon 5600 processors, the new Xeon E5-2600s could run the DreamWorks rendering software about 35 per cent faster. Also, using the 256-bit Advanced Vector Extensions (AVX) instructions helped boost the performance of its shading algorithms by 40 per cent.
Alex Rodriguez, vice president of systems engineering and product development at cloudy infrastructure provider Expedient (not the New York Yankee's third baseman), was trotted out to talk up the real-world benefits of the AES Native Instruction features on the Xeon E5 chips, which were available in the prior Xeon 5600s as well.
Expedient's tests using OpenSSL software and AES 256-bit encryption showed that an old two-socket Xeon 5500 server of the Nehalem generation could perform the encryption at a rate of 5.3Gb/sec; this was all done with the AES implemented in software and running as an app on the server. With the Xeon 5600, which had six cores instead of four with the Xeon 5500, this software-based AES encryption could run at 10.9Gb/sec.
That's a pretty fair speed up – and when you let OpenSSL see the AES-NI instructions and use this instead of software-based AES, the bandwidth of the OpenSSL software rose to 18.2Gb/sec.
But now, plunking that same OpenSSL stack on a two-socket Xeon E5-2600 server can push it up to 39.7Gb/sec. That, said Rodriguez, is enough encryption capability to secure all the data on a DVD in nine-tenths of a second, or to have a single two-socket server encrypting all the data coming into one of its data centers.
Of course, what you want is for all data flying between the servers inside of the data center to be encrypted both as it moves around and when it is at rest. And you know what that means? Looks like you're gonna need some more Xeon E5 servers. ®