Antique Code Show

Has there ever been a driving game quite as gleefully bloodthirsty, so nihilistically violent and as downright daft as Stainless Games' Carmageddon?
The blood red hued baldy leering out from the front of the box set the tone: this isn't a game about simulating the driving experience, or even winning races, so much as revelling in sheer bloody carnage. Definitely more Top Gore than Top Gear.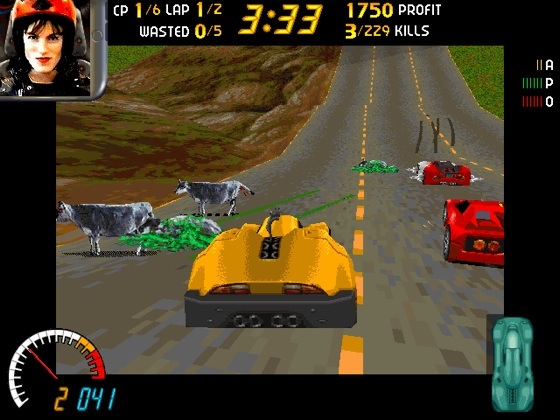 Cowmageddon
"Members of the public, you now have one minute to reach Minimum Safe Distance," came the game's opening commentary.
Few did, and early Carmageddon games could quickly degenerate into berserker slaying sessions. Sod the race, I'm going to cream pedestrians.
Podgy middle-aged men, biker types, executive suits, bikini-clad blondes, even little old grannies shuffling along on Zimmer frames - all were fair game for your splat-stained fenders. Cows too, in the out-of-town levels, one of which was notoriously named 'Beef Curtains', allegedly after the number of cattle straying onto the path of oncoming vehicles.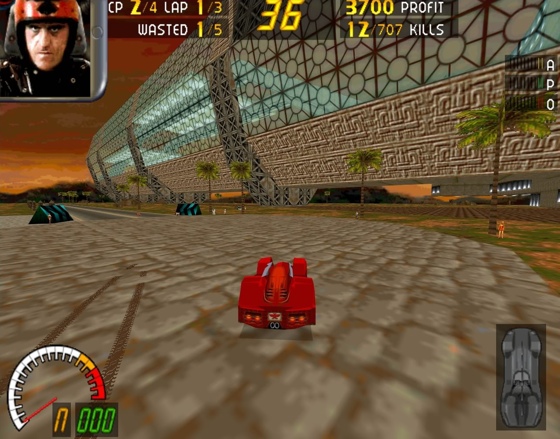 Doom... with cars
Points were awarded for "cunning stunts". Puerile? You betcha.
But it was the atavistic enjoyment of the violence that bothered our nation's guardians of right and wrong. Moral outrage forced Stainless to release the game with those flying red pixels painted a lurid green. Faced with a sales ban, the developer re-cast the fleeing folk as roaming zombies.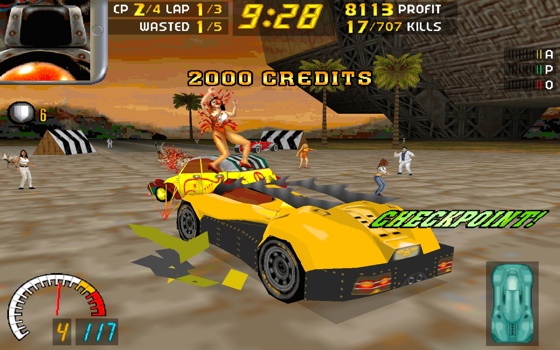 Gory, gory, hallelujah
Courting controversy for publicity purposes - though I've heard folk from the game's publisher, SCi, deny that that was the case - Stainless and SCi submitted Carmageddon to the British Board of Film Classification (BBFC) in the hope of gaining a for-sale-to-adults-only 18 rating.
The move backfired: the BBFC refused to certify the game at all, citing the horrific red mess made of the realistic looking NPCs. Yes, even in the mid-1990s, Carmageddon's visuals were considered too close to the bone.
So out went the human blood, to be replaced by zombie fluid and black robot oil. A year later, the BBFC relented, and the ketchup was back. Gamers overseas generally faced no such institutional scruples. Even the usually censorious Australian authorities passed Carmageddon in all its red-hued glory with a MA15+ rating.