Fatality attraction
Maybe the Aussies, unlike the Brits, had sense of humour enough to understood what the game was really about. Carmageddon was grand guignol. It was never intended to be taken seriously. It offered an over-the-top horror catharsis just too plain silly to cause offence.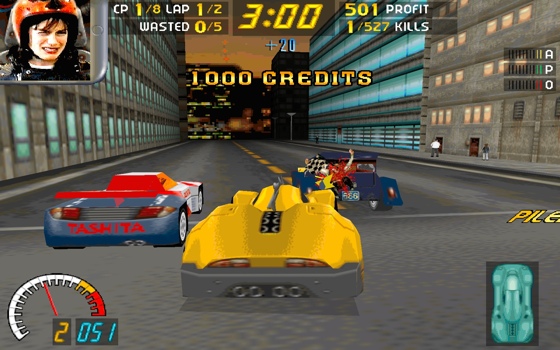 That's gotta hurt
And amid the sauce-splattered carnage, there was some impressive tech on display. Carmageddon sported clever physics modelling to manage the effect of jars, jumps, stunts and skids. It was one of the first driving games to implement sandboxed 3D game zones, allowing you to go anywhere you want within Bleak City, Devil's Canyon, Dusty Trails National Park and the Frosty Pass Ski Resort rather than clamp your car to the racetrack. This was Doom with cars.
That gave you an amazing freedom of manoeuvre, allowing you to pick your route to the checkpoints, and to avoid collisions or bring 'em on as the mood takes you. Mis-time a leap? Just go back and try again, then take a shortcut and win the race. Not too easy, that - the AI was smart enough to maintain a tough challenge.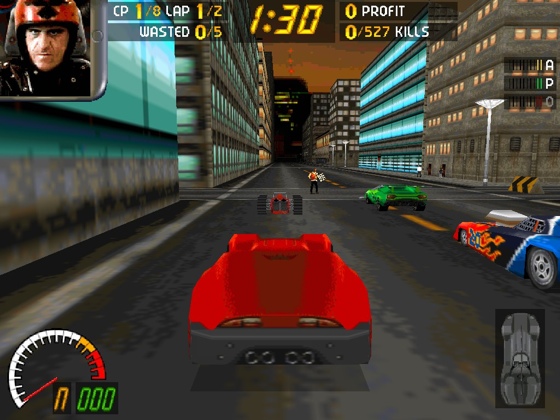 Start your engines
And the racing wasn't bad, either, with bouts taking you around city streets and making you leap from roof to roof amid the skyscrapers. Misjudge the jump and you're either plummeting to ground level, or gaining bonus points for the unexpected stuntwork.
Glance at your avatar's face - aka Max Damage or Die Anna - in the ever-present rearview mirror at the top-left of the screen for the literally eyes-out-of-your-head effect of high-speed head-on collisions.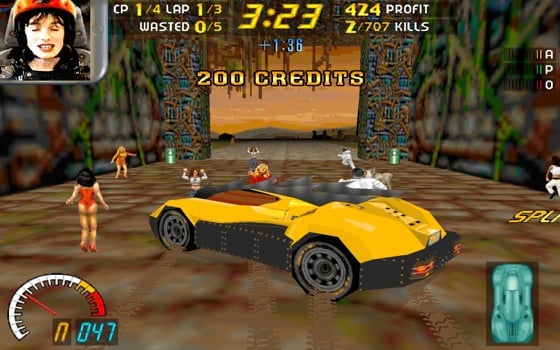 Girlfight
You could view the action through your car's window, or flip to a third-person viewpoint - changes of perspective players of today's driving games take for granted.
But it was the Mad Max prangs and the pedestrian roadkill that made Carmageddon the game it was: "berserk, absurd, epic and comical at the same time", as one reviewer nailed it back then. ®
Antique Code Show is published every two weeks on Wednesdays
Developer Stainless Games
Publisher Sales Curve International (SCi)
Year of release 1997
Platforms PC, Mac
More Retro Games

Leisure Suit Larry
System Shock
The Dizzy Series
Rainbow Islands
Doom