This article is more than 1 year old
Apple's App Store parades surprise new Catalog model
This is news to us, sniff devs
Apple has launched a new App Store category called Catalogs in what could be a tantalising glimpse of something bigger to be unveiled tonight at the next-gen iPad launch.
The outing of the Catalogs section (in some places spelled "Catalogues" presumably for Brits) seems to be a little premature - certain apps are listed in it, but the category doesn't feature in the store's front window. There is also no category home page for "Catalogs" at time of writing.
A UK dev house whose fashion store app has been recategorised to the new Catalogs section told The Reg that the reclassification was a surprise. A team member said: "It's actually news to us."
The new Catalog section seems to largely contain shopping content, such as clothes store apps Uniqlo, Zara and Muji. Several apps with "Catalog" in the title have wound up in there too, such as the Lego Minifigure Catalog below.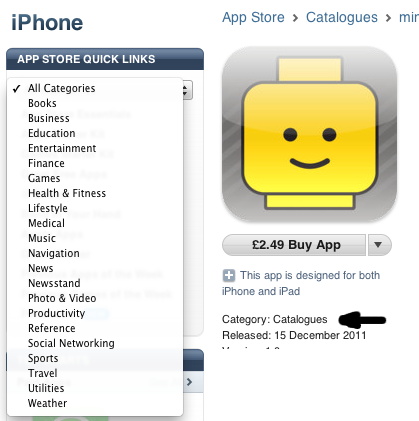 Catalogues doesn't show up as an official category, but the Unofficial Lego Minifigure Catalog is one of several categorised as a Catalogue
The new section could simply be a way of tidying up the Lifestyle shelf, which bowed under the weight of shopping apps of all descriptions - TopShop, Tesco and Groupon were jumbled up with the likes of Get a Girl, SpareRoom and iBaby Feed Timer. Apple bought out startup Chomp last month to improve its app search service.
Then again, Catalogs could herald a new way to get people to shop on iOS devices - possibly including new payment options and asserting iPhones and iPads as more of an electronic wallet for transactions. ®